Toggl: Senior Backend Engineer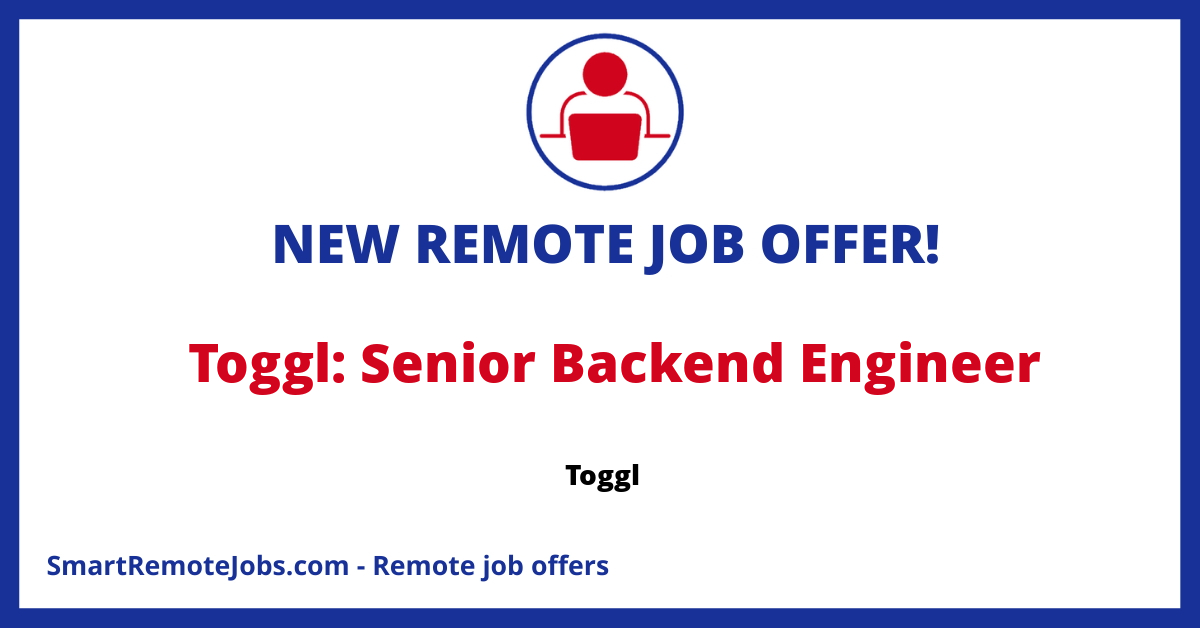 About the Job
Toggl, a company focused on productivity tools, has an open position for a Senior Backend Engineer in their team. With a gross annual compensation of €70,000, the company promises a review of salaries every year, considering both company and individual performances.
The role allows the employee to work from any location in Europe, given the plan to physically meet with the team once a month or every two months. The company is recognized for its considerable footprint in the remote work landscape. Toggl has been operating for more than 10 years and their products are used worldwide.
Role Responsibilities
The Senior Backend Engineer will be a critical part of building a new tech product for the company. The position involves taking ownership of certain domains within the product, developing services, and backend systems using technologies like Go, PostgreSQL and Google Cloud Infrastructure.
Key responsibilities include developing and maintaining backend services, collaborating with other teams, and leading projects. The engineer is also expected to look for technical problems of the existing system and provide solutions, while also being open to mentoring junior engineers.
Ideal Candidate Qualifications
Applicants should be experienced in programming with Go, distributed systems, PostgreSQL, and Google Cloud Infrastructure. Experience with software engineering best practices and performance optimization is preferred. The candidate must have effective communication skills with a proficiency in English, and they should be willing to contribute to the improvement of the engineering team.
Bonus points are given for full-stack experience, experience with data warehouse and analytics systems, Kubernetes at scale, and experience with system architecture at scale.
Benefits
Toggl offers benefits like flexible working hours, 24 days of paid time off a year plus local holidays, paid sabbaticals, a laptop and home office budget, monthly allowances for co-working space and internet service, annual contributions for training, workshops, conferences, and health improvement equipment or services.
To apply, interested candidates should visit Toggl's job posting on WeWorkRemotely.com.
This job offer was originally published on We Work Remotely