CloudDevs: React/node Fullstack Developer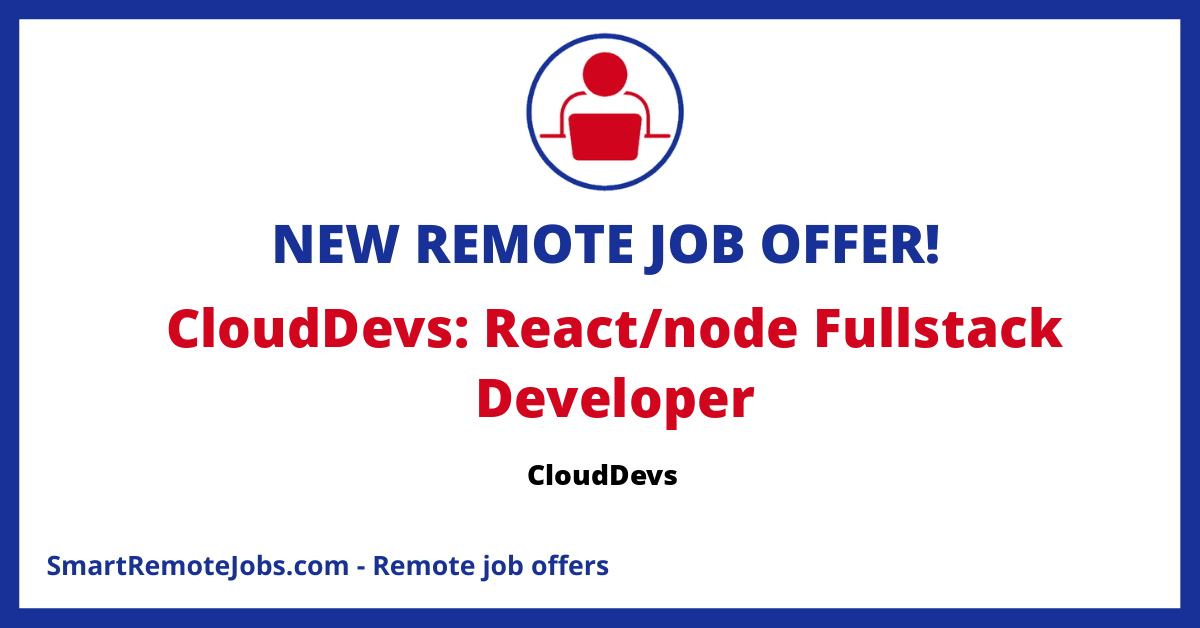 CloudDevs Job Description
San Francisco-based CloudDevs is on a mission to assist top-tier, venture-backed startups by bringing in highly skilled JS/typescript developers. The role offers an exciting opportunity to contribute significantly to a startup's early-phase growth, directly influencing its trajectory. Moreover, the position will be employed by one of these standout startups.
Qualifications
The minimum requirements for the post include a bachelor's degree in computer science (or an equivalent practical experience). However, they prefer you to have at least seven years of work experience in the software engineer position (or a related field). You should be proficient in English and exhibit robust problem-solving capabilities. An essential quality they're looking for is someone who thrives within a distributed team setup and can communicate and collaborate efficiently
Preferred Qualifications
For preferred qualifications, the applicants should have a proven record of shipping software and successfully released apps. They'll be expected to present names and links to these on their resume. Additionally, 5+ years of commercial experience of using React, Vue, or any JS framework on the front end and a major framework like NodeJS/Rails/django/go/elixir/java/flask/laravel on the backend. They should possess strong technical design and development skills. Candidates who have experience with Continuous Integration are particularly desirable. The role demands meticulous attention to detail on every code line, unit test, and commit message coupled with comfort with rapid development cycles and tight schedules
Benefits
CloudDevs offers remote work and competitive compensation packages, including bonuses and stock options. Additionally, you get the opportunity of getting matched with multiple pre-vetted employers by applying just once. The salary and compensation range from $70,000 – $110,000/year for LATAM and European developers, and the rates vary for other regions.
This job offer was originally published on We Work Remotely