XM: Senior PHP Web Developers– Cyprus, Greece or Remote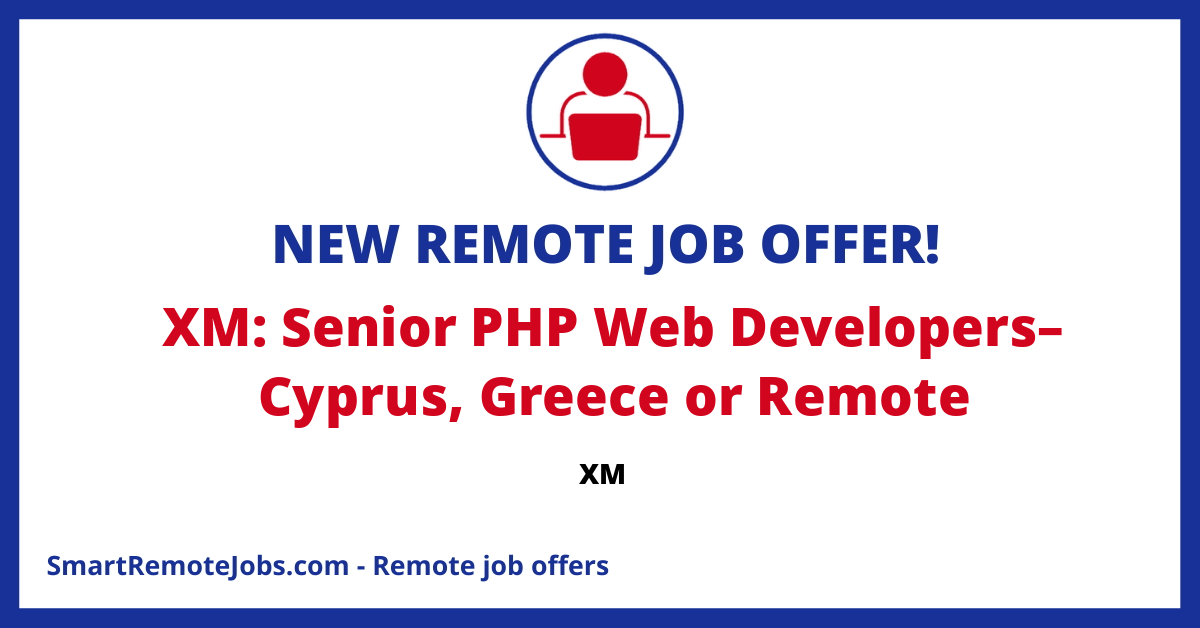 XM's Senior PHP Developer Job Listing
The role entails joining a dedicated team of software engineers in taking the next step in software engineering. The successful candidate will be at the helm of key software processes and technologies such as Kubernetes, Terraform, PHP, Go, React & Angular on AWS. The organization provides continuous learning with the latest technology stacks, and hands-on experience on challenging projects.
The successful candidate will also design and implement new features/projects, maintain and refactor the company's existing web applications, and integrate new web technologies. The job also entails writing tests on a continuous integration server to maintain high standards of code. A part of the role involves resolving support tickets for IT-related issues.
The candidate should have a BSc/MSc degree in information technology or any other relevant discipline, with at least 3 years of experience in a similar position. Proficiency in PHP 7+, MySQL, Redis, Git, and object-oriented programming principles is mandatory. The ability to create and consume web services and experience with modern PHP frameworks is also a must. Solving problems, multi-tasking, prioritizing tasks, working independently and integrating well within the team are crucial soft skills required.
Advantageous Skills
Candidates with experience in Symfony framework, REST APIs development, and software development practices like design patterns, SOLID principles, DRY will be considered with an edge. Candidates who understand security practices (OWASP), have worked with cloud providers (e.g., AWS), have experience in database query optimization and creation of composer packages, and have expertise in front-end frameworks or libraries like Angular or React will also have an advantage.
Benefits
The employee benefits from an attractive remuneration package, private health insurance, food allowance, an intellectually stimulating work environment and opportunities for continuous personal development and international training opportunities. The job is full time, and people from Cyprus, Greece or anywhere who can work remotely can apply.
Please apply online on their website www.xm.com/careers. All applications will be treated strictly confidentially.
This job offer was originally published on We Work Remotely