Senior Director/ Director, Marketing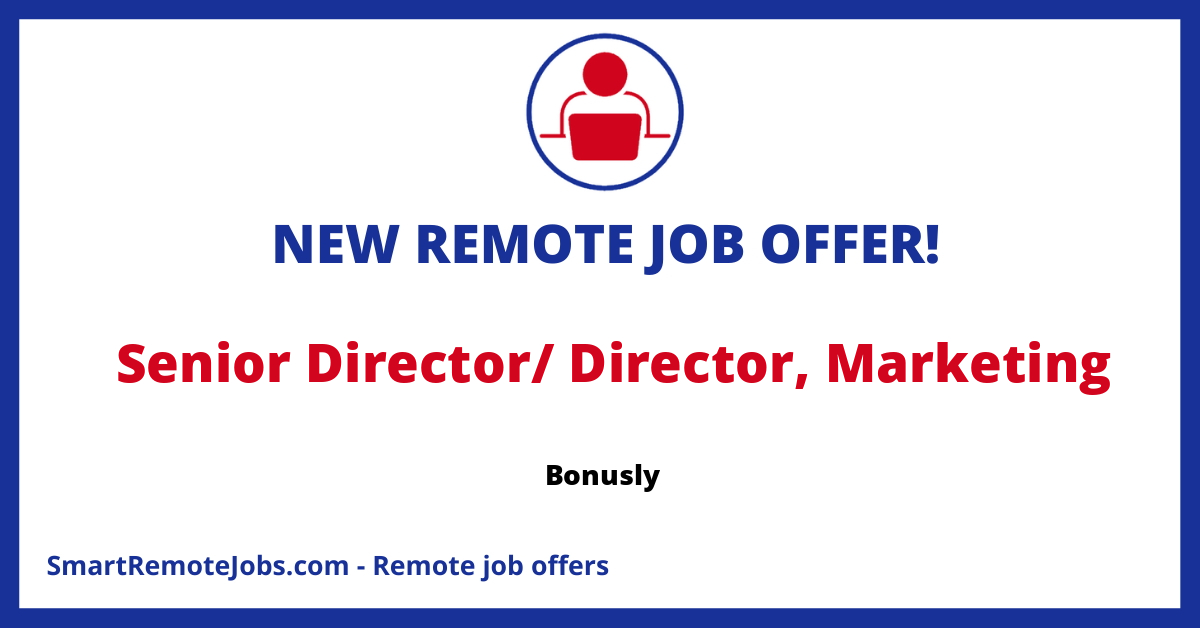 Sr. Director of Marketing Position at Bonusly
Bonusly is on the hunt for a Sr. Director of Marketing. The candidate will be responsible for helping fast-growing companies scale sustainably while having fun on the job. The chosen candidate will report directly to Bonusly's COO, becoming a part of the Leadership Team. The job entails leading a team in creating a nascent Marketing engine that will foster the scalability of Bonusly's business operations.
The work environment at Bonusly values collaboration and results-oriented approaches. The tasks will involve leveraging one's leadership and expertise to bring alignment among team members across different areas like demand generation, product marketing, and content marketing. Not only is the team small and growing, it is also dedicated to building engagement-rich and recognition-rich cultures in workplaces around the globe.
Key Responsibilities and Requirements
The new hire will manage a growing team of marketing professionals assigned to Demand Generation, Operations, Product Marketing, and Content Marketing squads. Creating, implementing, and refining Bonusly's Marketing strategy will be at the core of their job. In addition, they must ensure alignment of business goals with Sales, Product/Engineering, and Customer Success. The director will maintain Bonusly's sales team's reliable pipeline of qualified leads and position Bonusly as a thought leader in the HR space.
The ideal candidate should have more than 6 years of experience in leading marketing teams at rapidly scaling B2B SaaS companies, and a strong track record in generating demand within SMB & Midmarket segments for SaaS companies that blend product-led growth and product-led sales. Owning a lead and/or pipeline target for most of their career in Marketing leadership. Furthermore, as a leader, they should excel at building teams that can make quick decisions, experiment, and iterate. Deep proficiency on Hubspot or similar martech platforms is necessary.
Compensation Guidelines
Base salary for the position ranges from $155,000 to $210,000.
Be cautious of scam messages posing as Bonusly regarding fraudulent job positions. The company will always reach out via an official email address.
This job offer was originally published on Jobicy