Sr. Core Product Marketing Manager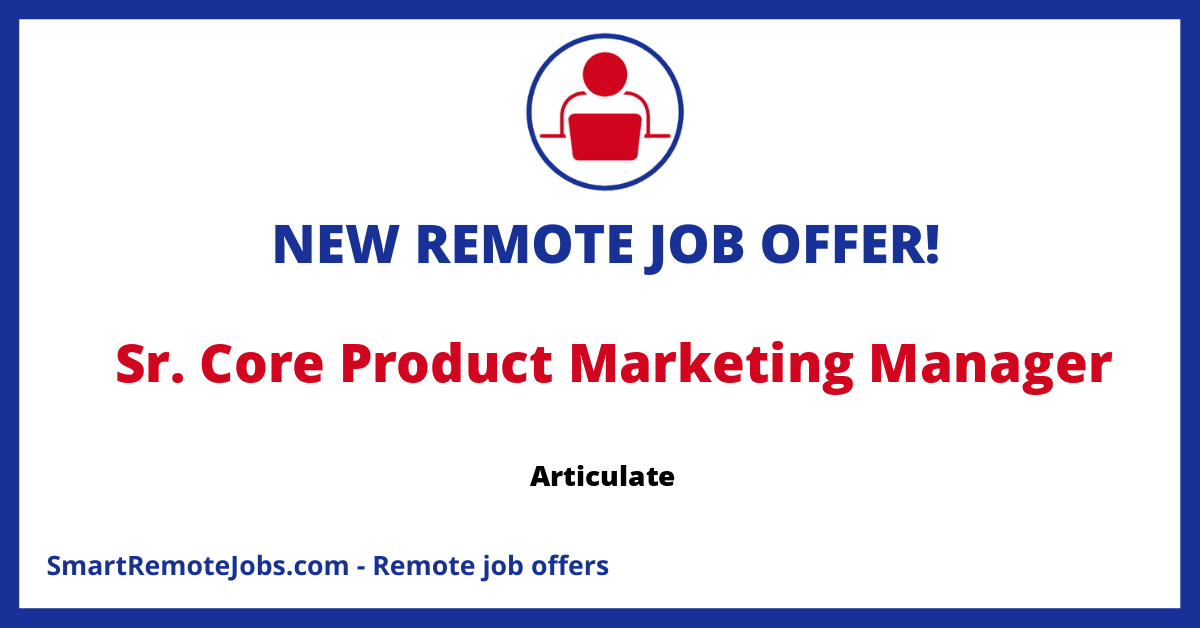 Sr Product Marketing Manager Role
A position for a Sr Product Marketing Manager is open at Articulate. The chosen candidate will join their expanding Product Marketing team to help drive the Go-To-Market (GTM) strategy. Working closely with the Director of Core Product Marketing, the new hire's responsibilities will encompass the development of vital product messaging, positioning of Articulate products and close collaboration with marketing and sales stakeholders to deliver business results.
Main Duties
Leading the launch of a new product line and owning the ongoing GTM strategy are key parts of the role. The manager will work closely with product, sales, and marketing teams to execute multi-channel campaigns, with a focus on effective customer acquisition. Furthermore, the manager will create unique value propositions, differentiated messaging that endorses the ongoing value of Articulate products in support of revenue, expansion and renewal goals.
Collaborations and Research Initiatives
The new hire will also collaborate with the Growth Marketing, Design, Copy, and Content Marketing teams on campaign execution, reviewing created copies to ensure accuracy of positioning and messaging. The position requires driving both international and domestic growth by empowering partners and direct field teams. A crucial part of the job will comprise planning and executing research initiatives to gain an in-depth understanding of customers, markets and competitors to inform the GTM strategy and product roadmap.
Criteria for the Role
The ideal candidate should possess at least 8 years of product marketing experience within a B2B SaaS context. Understanding how to take products to market via sales and marketing channels using best practices is necessary. Key skills include a customer-centric approach, data-orientation, exceptional communication skills, and ability to prioritize, execute, and drive results. Collaborative approach in partnering with internal stakeholders is crucial as well. An undergraduate degree is required, and preference will be given to those with an MBA.
Compensation Overview
The pay range for this position in all US locations is between $119K and $178.4K. Articulate also offers bonus eligibility. The company considers a range of factors for compensation decisions such as skill sets, experience, training, licensure, certifications, qualifications, education and organizational needs.
This job offer was originally published on Jobicy