Recruitment + Outreach Manager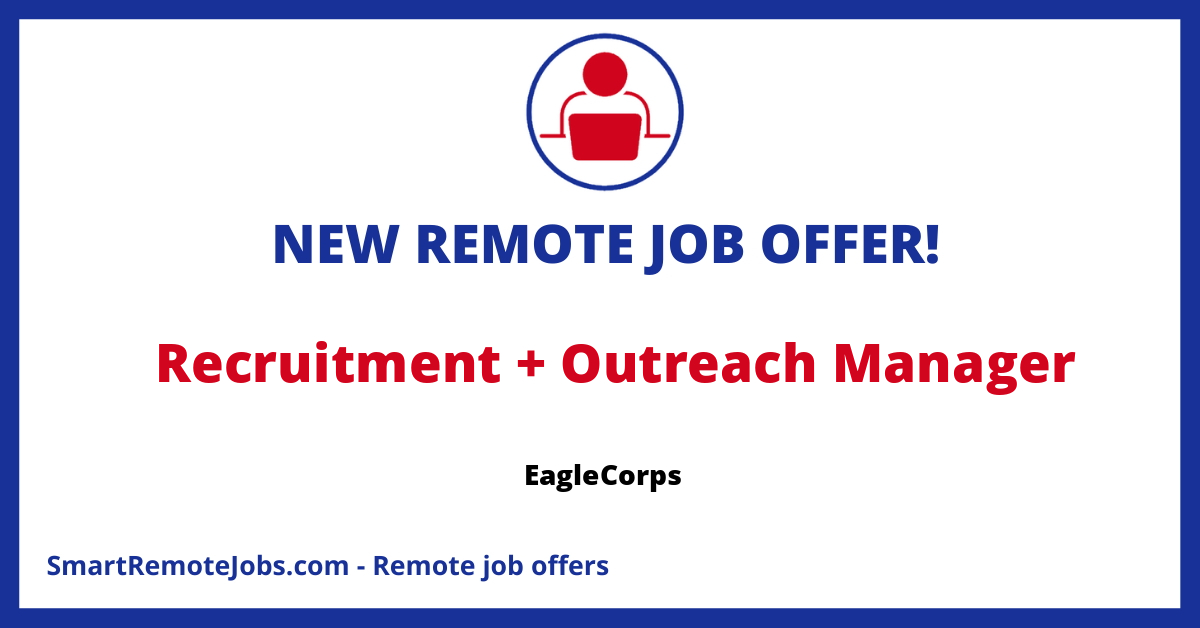 EagleCorps Recruitment & Outreach Manager Job Opportunity
EagleCorps is leading the way in talent and career development specifically for the U.S. veteran community. Using a skill-based training approach, we aim to place veterans in meaningful careers. A vacancy currently open for a Recruitment & Outreach Manager promises growth opportunities and rewarding benefits, including a compensative salary of $65-75k per annum (W2), coupled with full medical and dental benefits.
This role is essential to EagleCorps as the hiring professional needs to understand veteran talent, have a flair in human resources, business administration or a related field. The preferable candidate should have experience in specialist placements and bring effective communication skills to the table. The role also requires flexibility with working hours beyond the standard 9:00 a.m. to 5:00 p.m. schedule during peak registration periods.
While veteran status grants an upper hand, it's not obligatory. However, the ability to make effective presentations, strong communication skills - both orally and written, the ability to manage multiple projects, and knowledge of recruitment strategies and best practices are among the sought skills. In addition to these, the candidate must be comfortable with computerized systems and databases.
The Recruitment & Outreach Manager's job encapsulates building and maintaining a network with corporate partners, coordinating interviews and assessing candidate qualifications, and developing effective recruitment strategies. It also involves working closely with hiring managers to help understand their staffing needs.
Despite the demanding nature of the role, the physical effort required is limited, and reasonable accommodations will be made for people with physical challenges. The work is typically performed remotely from a home office setting.
Interested candidates need to apply through the provided link. Please note that EagleCorps only reviews applications submitted through this link and incumbents may be subject to a criminal background and fingerprint check.
This job offer was originally published on Remotive