Technical Accounting Manager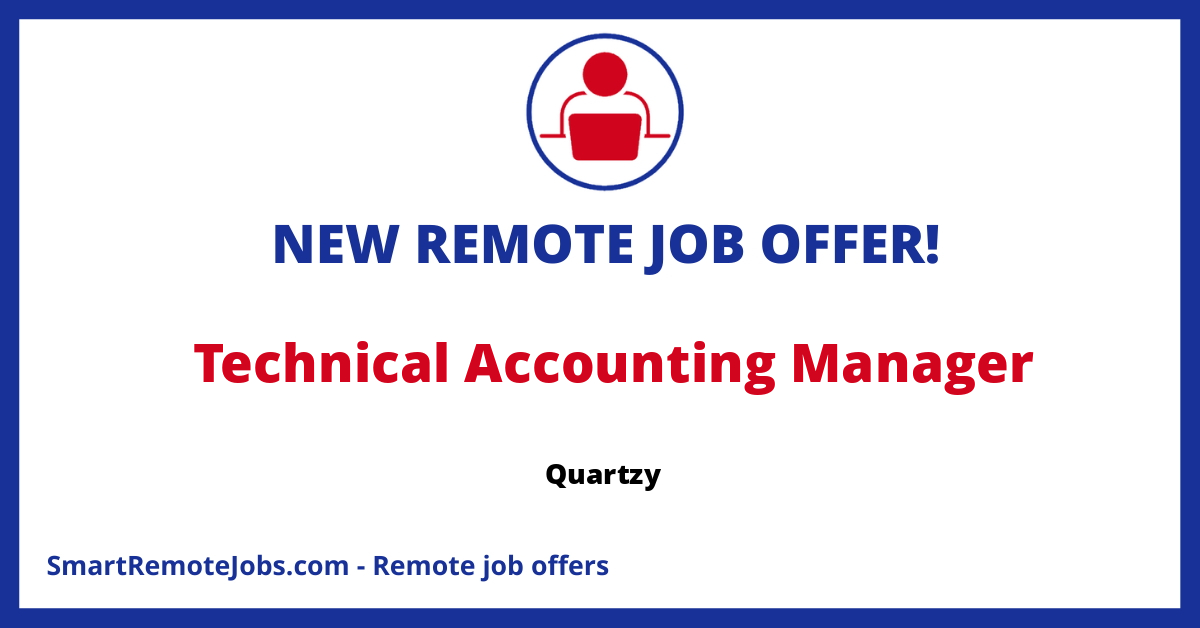 About the job
Quartzy, the world's leading lab management platform, is hiring a Technical Accounting Manager. This role offers a chance to have a significant impact on the financial reporting, month-end close process, internal controls compliance, annual audits, and other technical accounting responsibilities. An active CPA license, proficiency in US GAAP, and at least 8 years of work experience in finance or accounting are required. Knowledge of best accounting practices and procedures while considering internal controls is also vital.
;About Quartzy
Quartzy is a software company that provides a unique lab resource management and eCommerce platform. Their solution services scientists worldwide, improving the efficiency of their research work, thereby boosting productivity. Their client base varies from wine-makers to companies working on COVID testing and therapies, which they serve with humility.
Job Responsibilities
The chosen candidate would be responsible for supporting the financial reporting process (reconciliation, reporting, and documentation) in collaboration with various departments and functional groups. They will assist in creating and enforcing effective US GAAP compliant processes and procedures, support external audits, and manage ad-hoc accounting projects. They will also work with the engineering team to ensure accurate syncing of systems to the general ledger ERP NetSuite.
Offer
Quartzy offers a vibrant culture with virtual happy hours, company off-sites, and speaker series. Being a 100% remote team, there's the flexibility to work anywhere within the US. Also, the company advocates transparency through weekly stand-ups, monthly town halls, and anytime access to co-founders. Other perks include generous time-off, monthly internet stipends, the latest tech gear, and competitive compensation ranging from $100,000 – $130,000 a year, which varies based on location.
Equality at Quartzy
Quartzy promotes an equal employment opportunity environment. All terms and conditions of employment, including recruiting, hiring, placement, promotion, termination, leaves of absence, compensation, and training are devoid of any discrimination or harassment. Reasonable accommodations are provided for the known physical or mental limitations of a qualified individual with a disability. Quartzy is compliant with all local, city, county, state, and federal laws, regulations, and orders.
This job offer was originally published on Jobicy