Tactiq Tech: Senior Python Developer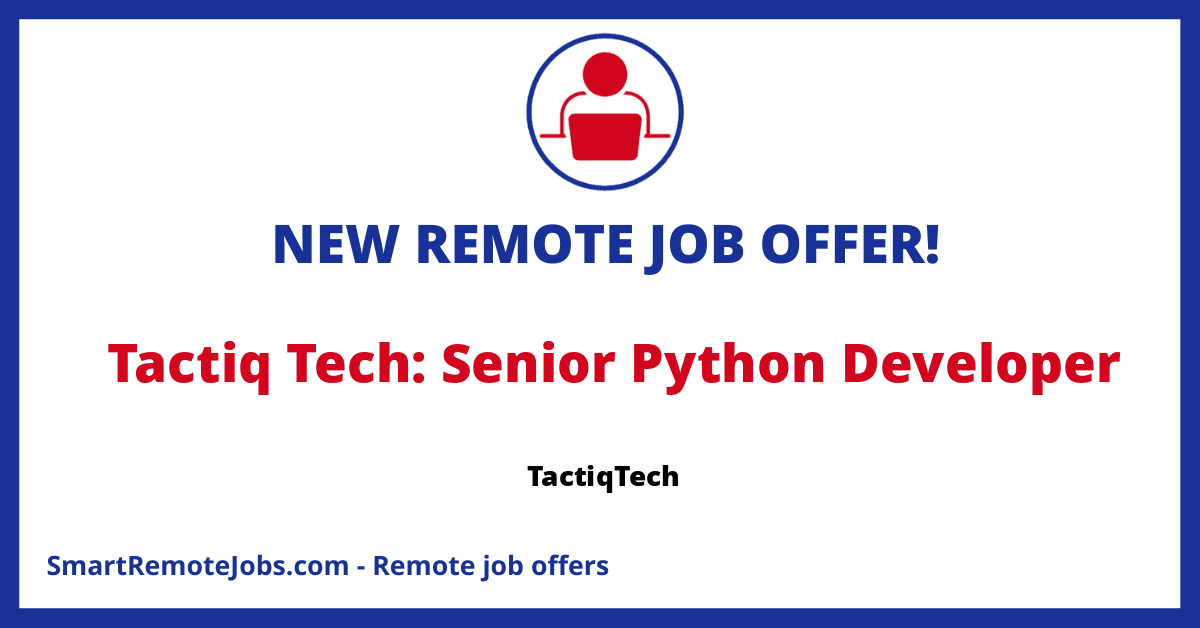 Vacancy at TactiqTech for Senior Backend Engineer
Tactiq is a rapidly growing eLogistics company dedicated to improving the reliability of local food supplies across the US. The company provides state-of-the-art SaaS solutions to tackle the frequent problem of out-of-stock situations and invoicing issues that plague America's largest retailers. They offer native mobile apps and web applications supported by cloud agnostic APIs which facilitate the procuring of food items from over 30,000 trusted stores. The company is currently on the lookout for a competent Senior Backend Engineer join their progressive team.
Working Hours and Conditions
The hired Senior Backend Engineer would join the workforce with time zones ranging from UTC to UTC -7. This specification is deliberately set in place to promote stability in work hours and foster enhanced collaboration among team members.
Key Responsibilities
The Senior Backend Engineer's role will be crucial in the design, development, and delivery of a large scale public API suite. The responsibilities extend to shaping the software architecture, overseeing its design and development whilst also contributing to the delivery. The individual will take on a leadership role within the remote-first scrum team - which stands out with its members hailing from five different countries across Europe and the Americas.
Qualifications and Skills
Applicants are required to possess strong Python skills along with considerable experience with Linux, Postgres, and AWS-centric development. Experience with OpenAPI, DynamoDB, Lamba, SQS, Angular, Terraform, or CloudFormation will be an added advantage. Ideal candidates should have excellent communication skills, a knack for problem-solving, and preferably a degree in Computer Science. Nonetheless, the company remains open-minded towards candidates with varied educational backgrounds.
In alignment with their commitment to equal opportunities for all, Tactiq ensures that every applicant will be given due consideration devoid of age, race, color, religion, sex, sexual orientation, gender identity, national origin, disability, or veteran status.
To apply for this position, go to Tactiq's job page on WeWorkRemotely. There are multiple openings, so interested applicants are encouraged to apply again even if they were previously unsuccessful.
This job offer was originally published on We Work Remotely