WordPress E-commerce Developer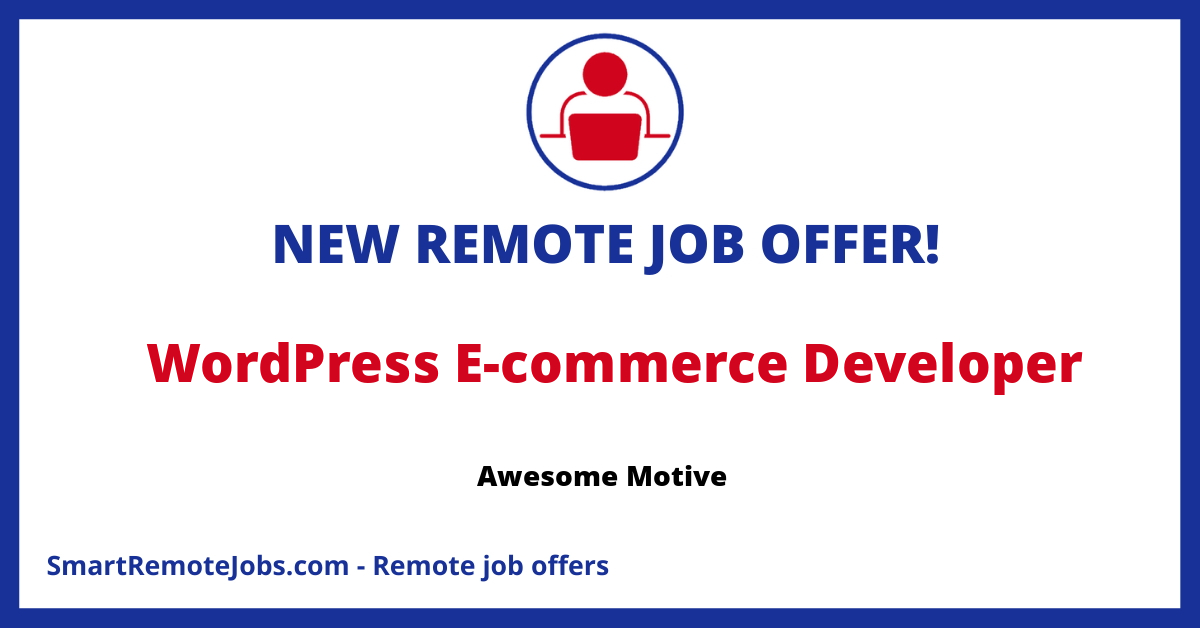 Job Description
Awesome Motive is hiring a WordPress E-commerce Developer to join their OptinMonster team. This role demands experience with WordPress billing/payment systems, preferably Easy Digital Downloads, and recurring subscriptions. The successful candidate will be responsible for creating scalable, secure e-commerce solutions and will be a part of a cross-functional team that oversees the entire software development life cycle. Competence in front-end and back-end coding languages, development frameworks, and third-party libraries, as well as experience with WordPress e-commerce tools such as WooCommerce, is essential.
Key personality traits include being an investigator who enjoys understanding billing systems and identifying and resolving obscure bugs. The ideal candidate should have the ability to review their own work, deliver polished solutions, and be curious about payment providers, subscription systems, webhooks, etc.
Responsibilities
The successful candidate will be tasked with Scoping, building and testing new product features particularly in regards to the billing system, product plans, addon features etc. They will be expected to investigate, scope, and fix bugs in the billing system and triage bugs and enhancements that come into GitHub. It will be their responsibility to provide technical support to the team and customers avoiding code-speak, delivering high quality, scalable software following best practices and communicate and support peers in the organisation.
Requirements
The requirements for the role include a minimum of 5 years experience in professional software development and 3+ years of WordPress Ecommerce experience. The interested applicant should have advanced proficiency with backend technologies/concepts and competent experience with front-end technology/concepts.
Bonus Points
Experience with ecommerce subscriptions, Shopify integrations, technical documentation writing, and Devops is also beneficial. Knowledge and experience in AWS, Lambdas, EC2, Docker, etc. are an added advantage.
Benefits
The benefits of working with Awesome Motive include a competitive salary, term life insurance, Accidental Death & Dismemberment for full-time team members, health, dental, and vision insurance for full-time U.S. employees, and unlimited PTO. Remote work is encouraged as the team is spread around the globe.
Company Culture
Awesome Motive prides itself on being an equal opportunity workplace with a broad view of diversity.
This job offer was originally published on Jobicy