JCA: Product Engineer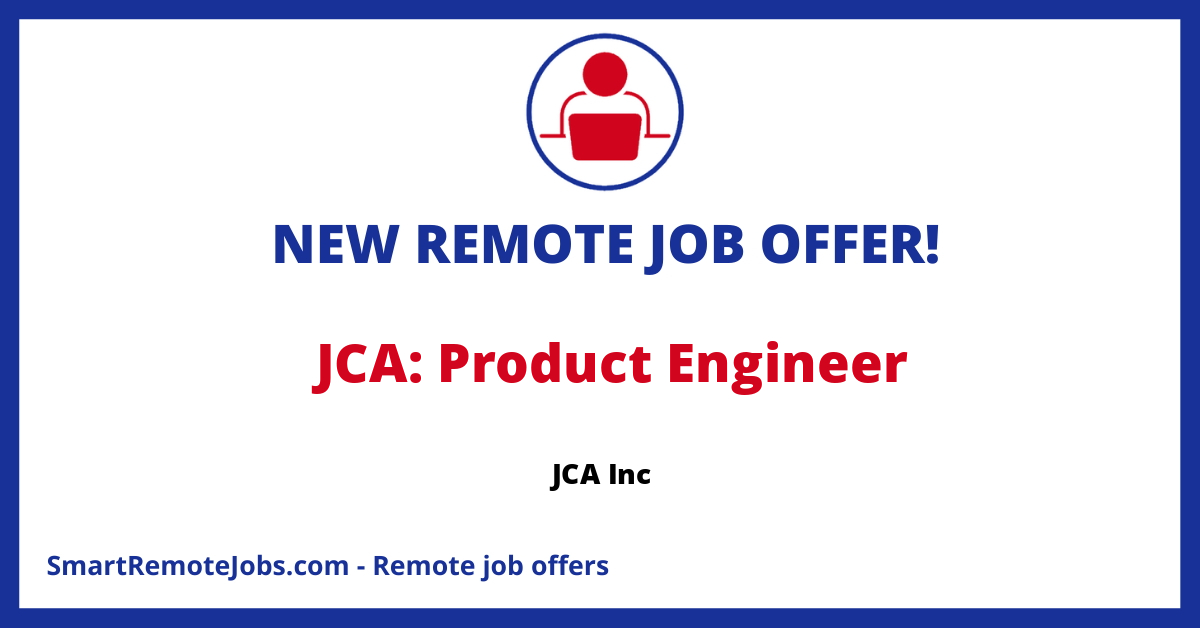 Summary of Product Engineer Job Description at JCA
JCA Inc, a New York-based firm, is seeking a skilled Product Engineer for its virtual team. The successful candidate will report directly to the Engineering Manager. This position requires an excellent problem solver with a track record of getting to the root of issues quickly. It further requires a team player who can communicate ideas with clarity and contribute technical solutions to improve existing software products. The hired individual will also be part of designing and developing new or revised products.
Key responsibilities in the role include product support, development, project support, and ensuring maintenance and security. The Product Engineer will work closely with the Product Lead and JCA Arts Marketing team to deliver fast solutions to elevated product concerns. The engineer will also interface directly with clients to gather information and define solutions to product issues.
Product Development duties involve assisting the Product Lead and the product development team in designing and implementing product features, revisions, and enhancements. The postholder will assist in building automated testing frameworks to ascertain the quality of all new products, enhancements, and features.
The role also requires the individual to protect operations, keeping information confidential, while adhering to data security policies, procedures, and practices. To ensure up-to-date job knowledge, the individual should continuously learn from state-of-the-art development tools, programming techniques, and computing equipment, by actively participating in educational opportunities, reading professional publications, maintaining personal networks, and participating in professional organizations.
The successful candidate will have a minimum of two years' experience as a software developer using C# in a primarily Windows or Web environment, and a minimum of two years' experience with SQL and database design. Having experience working with the nonprofit CRM Tessitura and JCA's Revenue Management Application (RMA) is a plus. The job comes with a salary range of $75,000 to $90,000, with other benefits such as a 401(k) retirement plan, ESOP, and a flexible spending account.
This job offer was originally published on We Work Remotely