UX Copywriter – English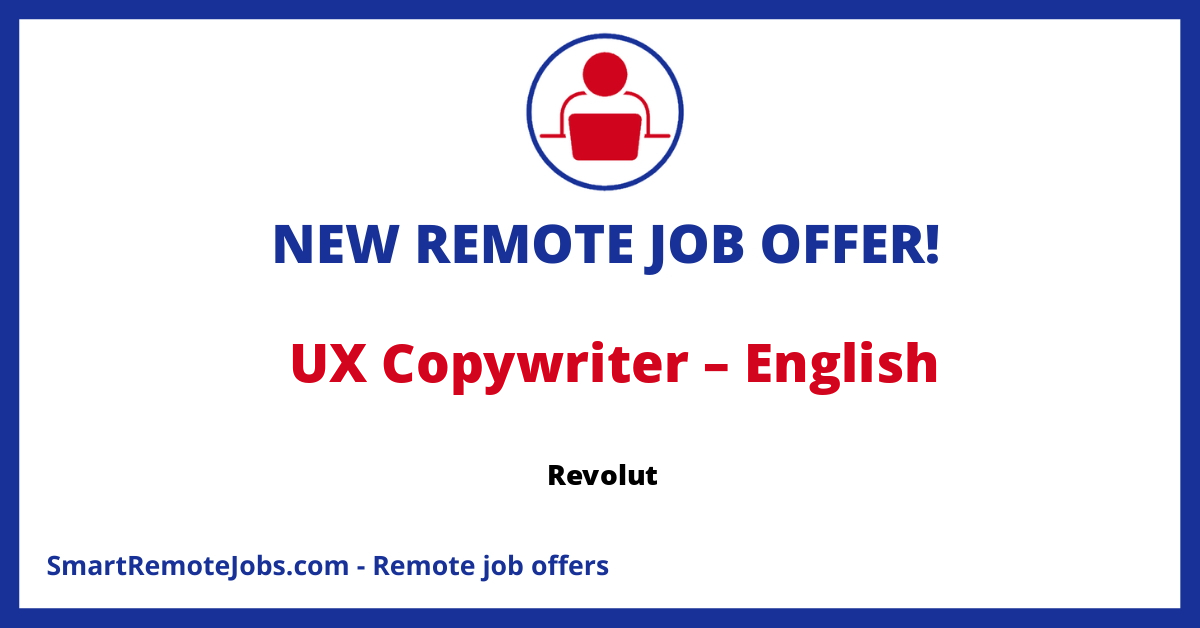 About Revolut
Founded in 2015, Revolut has been on an unwavering mission to fulfil what people need the most from their money - more visibility, control, and freedom. As a fintech super app, Revolut's diverse range of products ranging from spending, saving, transfers, to travel, investments and exchanges have benefited over 30 million customers. They believe the cornerstone of their rapid growth and future success lies in their resourceful workforce of 6000+ individuals scattered across the globe and a powerful, inclusive work culture.
The Role Call
One of the positions open is of a Copywriter. An apt role for those with a natural knack for communication, understanding the needs of the people and delivering even beyond. The copywriting team of Revolut is responsible for defining the tone of voice and messaging strategy. It's their creative storytelling that heightens customer anticipation. If being creative and technical simultaneously comes easy to you and if you can slip into your target audience's shoes without a hitch and spin enticing narratives, then you are a potential fit in the team!
Responsibilities
The role involves working closely with the product, design, and research teams to develop content strategies for both existing and new products, find intuitive content solutions, transform customer journeys into seamless experiences, and keep refining the brand based on insights. You would also be focusing on vital product concepts like retention and multi-product adoption.
Eligibility
You need to have at least 3 years of experience in a UX or content strategy role alongside product, marketing, and design teams. Strong UX and product thinking abilities, ability to communicate your strategies clearly, and adaptability to manage workload in an ever-evolving startup environment is expected. Writing and editing in English at a native level is required.
Compensation
Salary varies between €1,900 – €2,800 gross monthly for locations in Vilnius and Lithuania. For other locations, compensation would be discussed during the interview. The final compensation will be derived based on the candidate's qualifications, skills, and previous experience.
Diversity and Inclusion
Revolut is committed to fostering diversity and inclusion. In 2021, they launched their D&I Framework aimed at inclusive growth. It encourages applications from diverse backgrounds and experiences to join their multicultural, industrious team.
This job offer was originally published on Jobicy