Staffna: Remote Business Developer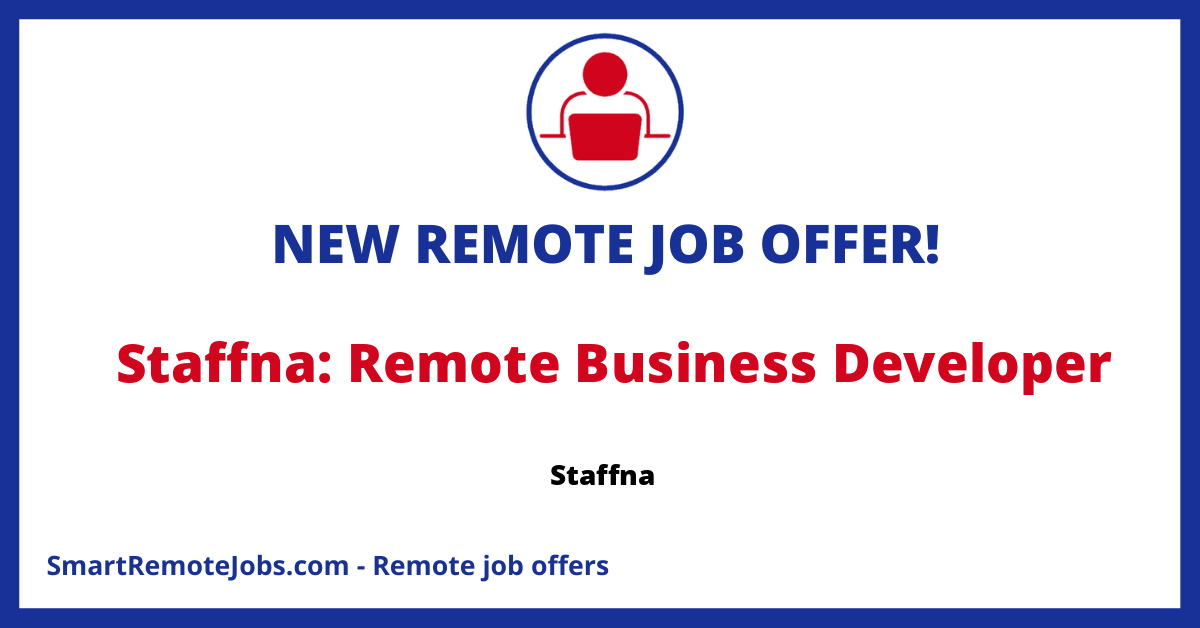 Staffna: Your Bridge to a Tech Sales Career
Are you a US citizen seeking new career opportunities and eager to earn in six figures? Staffna is opening the doorways to the world of tech sales for you. Without requiring any prior experience or a college degree, Staffna guarantees placement in a tech sales role in just 12 weeks or less.
Successful recruits can anticipate a base pay between $40,000 and $60,000, supplemented with commissions. This profit structure enables most entrants to earn $100k+ in their first year, sans prior experience.
What Staffna Offers
Staffna is more than just a job placement service; it's an in-depth boot camp, a career incubator, and an accelerator program. Our curriculum includes AI-focused sales training with 20 hours of pre-recorded training, along with individualized mentorship that includes four 1-hour sessions each week where recruits can hone their expertise.
The job application process is made effortless with support in creating professional resumes, honing interview skills, and crafting a job prospecting sequence. Staffna assists in applying to over 100 high-income tech sales jobs every week, primarily focusing on positions among their career partners. An impressive job placement guarantee complements Staffna's offerings, ensuring a competitive salary in tech sales.
Guaranteed Success
Post the rigorous, result-oriented bootcamp, recruits will command a guaranteed base salary in the range of $40,000 to $60,000, complemented by commissions between $20,000 and $40,000. This lucrative compensation design ensures a successful financial trajectory for your career.
To kickstart your tech sales career with Staffna and step towards financial success, apply now. A promising remote business developer role awaits you at Staffna!
This job offer was originally published on Jobicy