GoTu (formerly TempMee): Backend Developer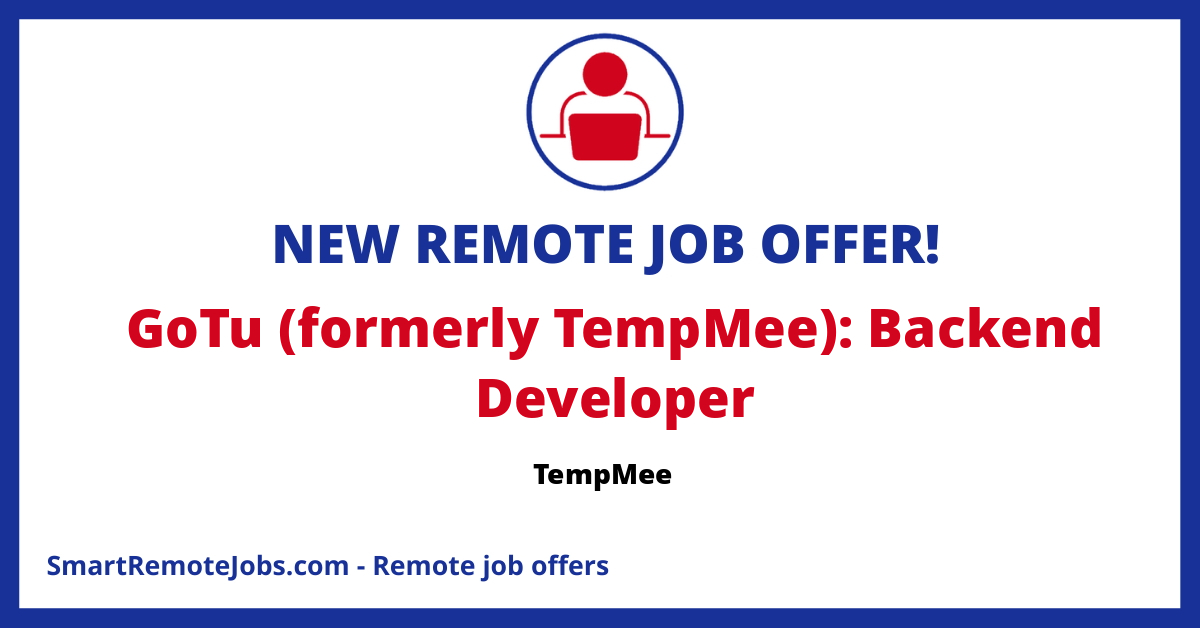 About TempMee
TempMee is a venture-backed tech startup based in Miami. Their aim is to revolutionize the Dental Industry by introducing an app likened to Uber, which is designed to disrupt the dental staffing landscape. Since its launch in late 2019, TempMee has built the largest community of hygienists and dental offices nationwide, easily surpassing the competition. They are confident that their platform will soon become the go-to solution for all dental staffing needs.
The TempMee Team
Working for TempMee means working with a dedicated team of engineers whose efforts are integral to the company's success. This people-first company encourages employee input and promotes a positive, fun work environment. They believe in hard work, but also uphold the value of enjoying what you do.
Job Opportunity: Backend Developer
TempMee is seeking an experienced Backend Developer, preferably with 3-5 years of experience in software development using several programming languages. The role requires availability for meetings between 9 AM and 11 AM Eastern American time on weekdays. Candidates should have 3 years of experience testing, maintaining, and launching software products, and 1 year's experience with software design and architecture. Key skill requirements include solid JavaScript programming skills, deep knowledge of relational database systems like MySQL and Postgres, understanding of NoSQL Datastores like ElasticSearch and MongoDB, and familiarity with modern cloud technologies such as AWS or Google Cloud. Previous experience with microservices and service-oriented architecture and building scalable, performant, and modular solutions is desired.
Responsibilities
The appointed Backend Developer will contribute to an exciting, high-growth startup environment. Tasks would include researching novel solutions to engineering challenges, designing impactful products in collaboration with designers, product managers, and engineers, and maintaining code best practices. The role will also involve improving scalable distributed systems and web applications for performance and scalability, performing quality assurance/debugging procedures, implementing testing protocols, and recommending system solutions.
Application Procedure
Candidates can apply for the Backend Developer role at TempMee via the following link: https://weworkremotely.com/remote-jobs/tempmee-backend-developer
This job offer was originally published on We Work Remotely