Senior Lead Product Marketing Manger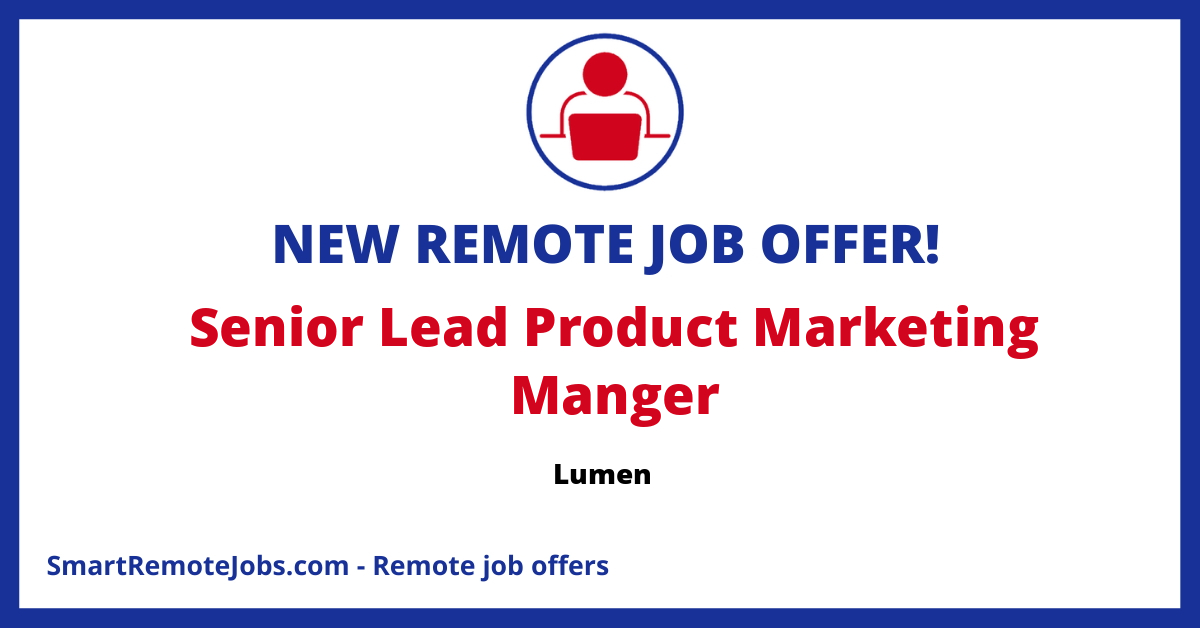 Lumen Company Overview
Lumen is driven by the belief that technology elevates humanity, and strives to enhance the way we live and work. With more than 450,000 fiber miles reaching over 60 countries, Lumen provides a secure and speedy global platform for applications and data. Its aim focuses on improving human life through technology.
Job Position: Product Marketing Manager
This position is similar to being the CMO of the assigned product or portfolio. The Product Marketing Manager is primarily responsible for creating product positioning and messaging. This individual serves as the connecting force between the product management, marketing, and sales teams, ensuring the alignment of amazing content with what the product does and what the customer needs.
Main Responsibilities
A product marketing manager significantly influences the strategies to successfully promote networking solutions to B2B personas. The responsibilities lie in designing effective product marketing strategies, decoding complex technical information into simple customer-oriented messaging to develop value propositions, handling the go-to-market strategy for the portfolio of offerings, and partnering with internal teams to drive the messaging in premium content and others.
Job Requirements
Required skills include significant experience in creating positioning and messaging strategies for core Enterprise IT solutions, a bachelor's degree and 5-year in Product Marketing experience, B2B Marketing experience, an innovative and creative approach, the ability to think strategically with focus on results and more. The ability to lead a cross-functional team is vital; precise understanding of details and the ability to view the bigger picture is needed.
Compensation
The salary differs based on location. However, compensation is determined not just by location, but also by qualifications such as experience, education, skills, certifications, and other business needs. A variety of region-based pay ranges are offered, varying from a starting wage at $94420 to $136665 depending on the state. More specific offer details are based on applicant qualifications.
Application Process
Applicants may be subject to a background screen, motor vehicle report, and/or drug screen, depending on the job requirements. Job-related concerns revealed in the background screen may lead to applicant disqualification. Evaluation of background results will be carried out on a case-by-case basis.
This job offer was originally published on Jobicy