Highline Mortgage: Freelance Content Writer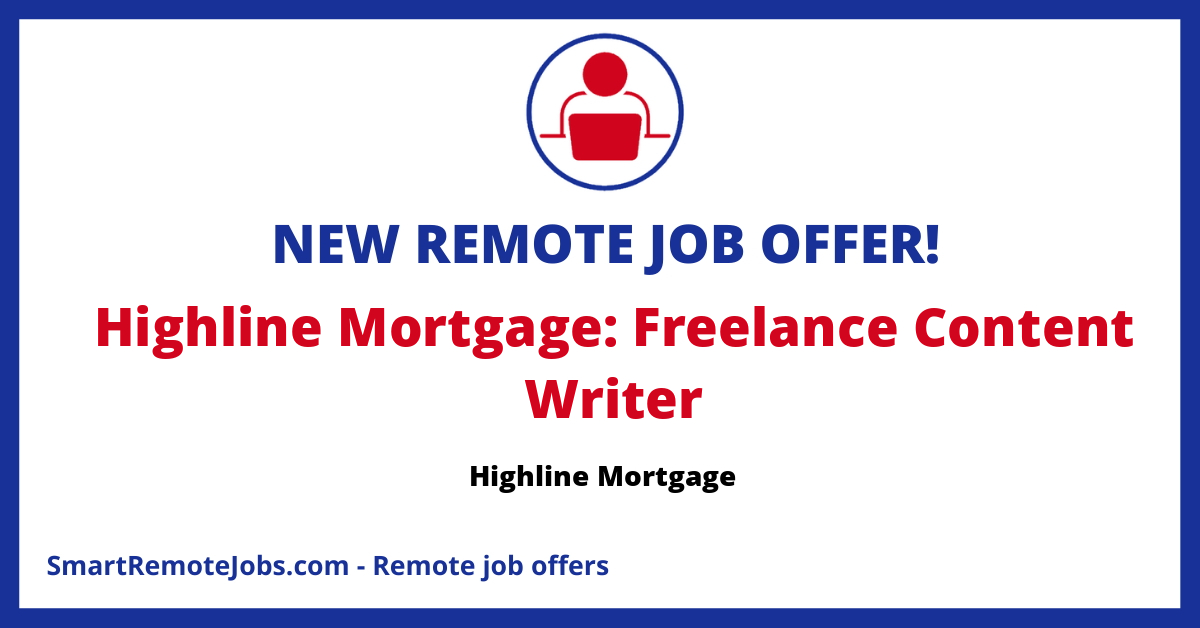 Highline Mortgage Freelance Writer Role
Highline Mortgage, located in Kelowna, British Columbia, is actively looking for a skilled Freelance Writer to join their team. Their aim is to render the mortgage application procedure simpler for all residents, offering them a worry-free experience. The Freelance Writer will prove instrumental in making the intricate mortgage terminology easy to understand, as well as creating captivating content that guides and informs clients throughout their mortgage procedure.
The extensive responsibilities of the Freelance Writer include writing well-researched, insightful, and engaging content like blog posts, guides, and web articles that remove the complexity from mortgage products and home purchasing process. Additionally, the candidate should be able to convert complex mortgage principles and industry-specific lingo into a comprehensible language designed for a variety of readers. The individual will work closely with the mortgage experts to ensure the authencity, clarity, and relevance of all the content produced.
Further duties consist of supporting the development and execution of content strategies that boost our brand's online presence and engagement. They should also make sure that their content is in line with SEO's best practices to increase organic traffic to our website. They should be comfortable working independently to fulfill agreed-upon deadlines and tasks while also being open to feedback and modifications when necessary.
Qualifications for the role include past experience in writing about finance, mortgage, or real estate-related topics. Outstanding written and verbal communication skills are necessary, as is a strong attention to detail. The candidate should be able to transform complex idea into engaging, user-friendly content. They should have a self-motivated attitude, capable of working independently and handling multiple tasks simultaneously. A familiarity with SEO principles and practices is desirable.
Highline Mortgage values diversity and encourages all interested individuals to apply along with their writing samples showing their proficiency in finance or mortgage-related subjects. The company is committed to fostering a culture of inclusion within the workplace.
This job offer was originally published on Jobicy