G2i Inc.: Senior Rails Developer - Remote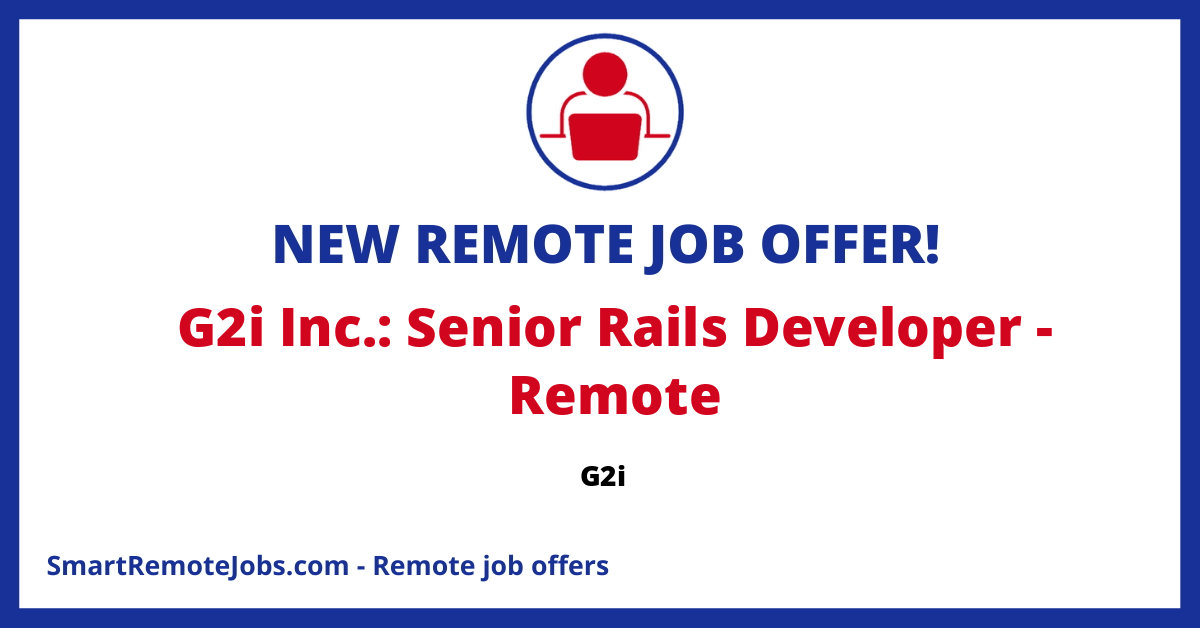 G2i's Impact and Objective
G2i takes a revolutionary approach to hiring. One of their developers, Tiago Souto, attributes his improved quality of life and reduced stress levels to his work with G2i. G2i aims to fill its vacancies with happy, healthy developers, focusing on their well-being as much as their professional development.
Job Role and Expectations
Prospective developers are expected to prioritize creating an exceptional product, ensuring the satisfaction of tech leads and clients through their excellent code, comprehensive documentation, and communication skills. The roles are 100% remote and allow for interaction with US clients from various sectors such as FinTech, Crypto, and traditional HR SaaS. As a contract-based role, developers have the freedom to move on to different projects upon completion of a previous project.
Community and Support System
Developers will be part of G2i's tight-knit community of over 800 engineers communicating via Slack, providing a support network for any challenges or queries. There is also the Developer Success Team, whose sole purpose is to support the developers.
Assignments and Compensation Structure
Assignments usually range from 32 to 40 hours per week and developers can expect to earn $80-$90 per hour. In addition, developers will work with modern technologies such as Ruby, Rails, React, GraphQL, Typescript, and popular deployment tools.
G2i's Initiative for Developer Health
With an emphasis on preventing developer burnout and promoting work-life balance, G2i supports developer health initiatives. This includes the introduction of the Developer Health Fund and the publication of the Developer Health OS, a guide focusing on burnout prevention.
Application Process
Applicants can apply by clicking "Apply" which leads to a one-off coding challenge and a follow-up conversation with the talent team.
This job offer was originally published on We Work Remotely