Senior Accounting Analyst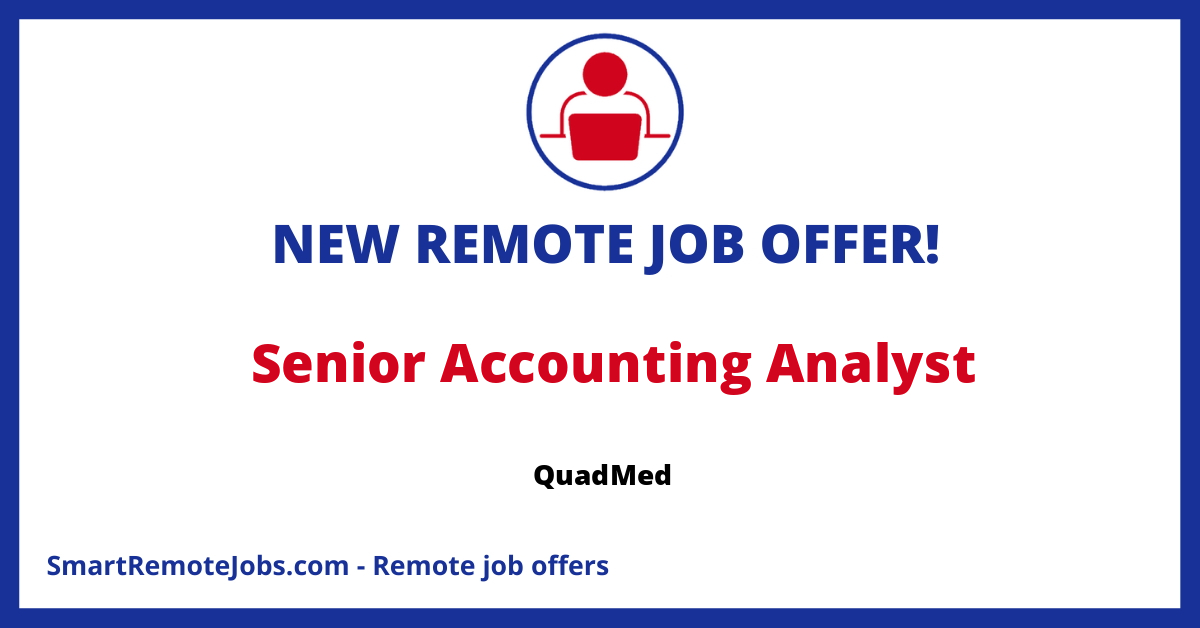 About Us
QuadMed, a health care company, are driven by the mantra, creating a better way. Ensuring employees spend more quality time with patients, build meaningful relationships and empower patients to achieve their full potential in life and at work.
Job Opportunity: Senior Financial Analyst
This role involves leading the month-end financial closing process, preparing account reconciliations, financial result reporting and transaction analyzing. The ideal candidate would have a degree in finance or accounting and at least 3 years of experience in the field. A CPA license is preferred.
Key Responsibilities
The responsibilities for this position include leading the charge in balance sheet and bank reconciliations, creating journal entries, analyzing accruals, maintaining management reports, developing audit schedules in response to auditor requests, reviewing financial statements, developing and implementation of internal controls, and leading special projects. The role demands diligence in ensuring compliance with Generally Accepted Accounting Principles (GAAP) and company accounting policies, besides improvising procedures for efficiency.
Qualifications
The ideal candidate will possess a Bachelor's degree in finance or accounting from an accredited college or university, a minimum of three years' experience in accounting or a related field and a CPA license is preferred. Required skills include advanced excel skills, ability to communicate with a range of internal contacts, comfort with an extremely fast-paced environment, and a commitment to promoting diversity and inclusion. Experience with Microsoft Office and familiarity with Power BI will be a great advantage.
About QuadMed
QuadMed was founded in 1991 by Harry Quadracci, a visionary print manufacturing CEO who was driven by the belief that there had to be a better way to provide his employees with access to affordable, high-quality health care. Today, 30 years later, QuadMed partners with employers nationwide, offering health and wellness services in or near the workplace. Their focus is breaking down cost, access, and quality barriers to empower employees and their families to live healthier, happier lives.
Benefits
Eligible employees are offered excellent benefits such as 401(k), holidays, and vacations, among others.
}
This job offer was originally published on Jobicy