Sr. Backend Engineer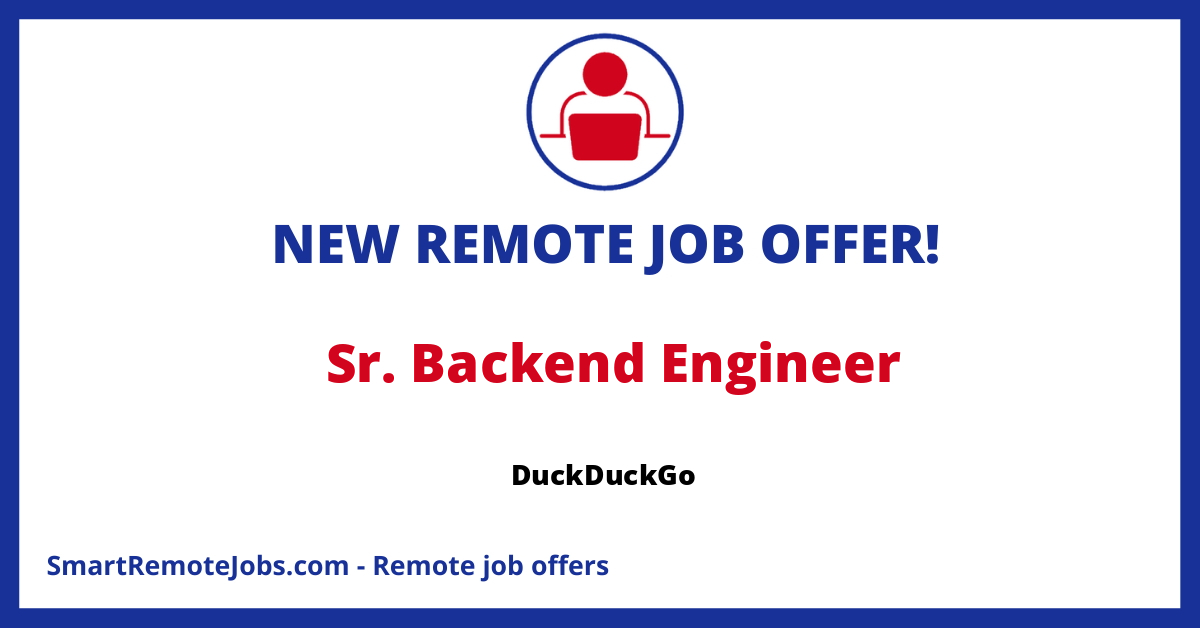 DuckDuckGo: Senior Backend Engineer Job Description
DuckDuckGo, a company dedicated to Internet privacy, is seeking an experienced Senior Backend Engineer. With a mission to make online privacy accessible, DuckDuckGo has developed an all-in-one product that has reached more than 75 million downloads annually and achieved the status of the #2 search engine on mobile in 21 countries.
The company, profitable since 2014 with revenue exceeding $100 million a year, is also introducing new privacy solutions, namely Email Protection, App Tracking Protection and Desktop Apps for Mac and Windows.
The Opportunity
The successful candidate will extensively engage in key projects, executing effective code that works consistently across the company's all-in-one privacy solution. They will be expected to eventually mentor other engineers and contribute to the growth of the backend team at DuckDuckGo.
Requirements
The ideal candidate will bring 7+ years of backend engineering experience, have a solid understanding of complex data structures and algorithms, and demonstrate effective project management and communication skills. An initiative-driven approach to problem-solving, as well as experience in leading and mentoring engineers, is key.
Support and Compensation
DuckDuckGo values trust, questioning assumptions, and validating direction. It empowers team members to work remotely and supports them in their professional growth. The annual compensation for this role is $170,000 USD with stock options, and every team member can invest $1,250 USD annually in their professional development.
Application Process and Work Environment
DuckDuckGo is a fully distributed company that prohibits discrimination and harassment. It offers a flexible work arrangement with no core hours, requiring a full-time commitment of 40 hours per week. Successful candidates will be subject to a background check. The company also hosts annual meetups and retreats.
Diversity, Equity, and Inclusion at DuckDuckGo
The company ensures equal work opportunities for everyone and promotes a diverse and inclusive workspace, in line with federal, state, and local laws.
This job offer was originally published on Jobicy