amazee.io : Sales Representative - APAC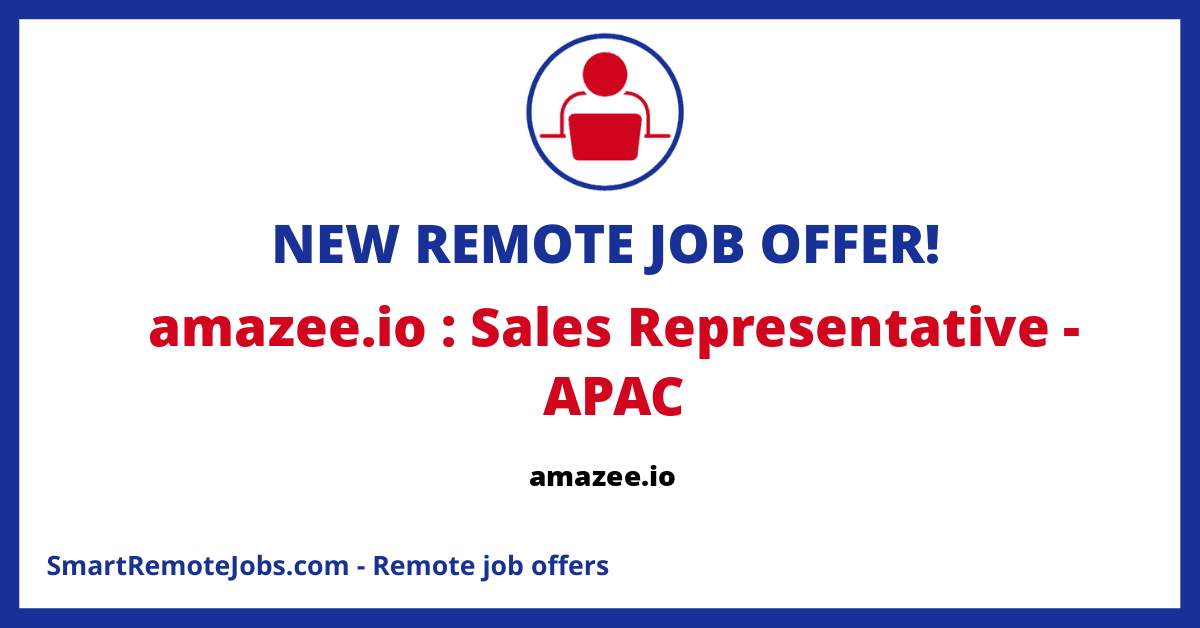 About amazee.io
amazee.io is a ZeroOps application delivery hub. The developer-centric, open source platform aims to ease developers' lives and jobs by minimizing infrastructure or operations management stress. The company supports organizations worldwide in accelerating their cloud and container adoption, providing easily managed Kubernetes for developer teams. They operate globally, and they offer 24/7/365 dedicated support.
Job Overview
Amazee.io is seeking a Sales Representative. This representative should have an interest in building genuine connections and carrying out consultative selling to clients. The candidate will join a fully remote, global team. The Sales Representative will be responsible for taking a client-centric approach to sales, qualifying inbound prospects, understanding their business needs, and developing solutions. This role will also involve connecting with decision makers and positioning the company's cloud-based technologies and services.
Duties and Responsibilities
The Sales Representative will engage and qualify inbound prospects, identify potential opportunities for amazee.io's offerings, and understand the needs of prospects in the cloud-based technology and solutions space. They will also build and nurture relationships with key decision makers within prospect organizations. There will also be collaboration with Sales Solution Architects to develop comprehensive and commercially viable solutions tailored to the needs of each prospect. This role will involve driving pipeline growth and contributing to sales process improvement.
Qualifications
Experience in tech sales or account management in B2B technology or SaaS services with enterprise clients is required. A comfort discussing cloud-based solutions, such as understanding Drupal, is needed. The role also requires strong interpersonal skills for building strong relationships with prospects and key decision makers. A collaborative mindset is required, as well as the ability to communicate complex technical concepts in a clear and compelling manner. Communication abilities should also extend to the use of gifs and cat emojis.
What amazee.io Offers
amazee.io offers its team a work environment of trust, transparency, and inclusion. As a fully remote company, they offer flexible working hours and location. Other offerings include a paid education benefit for professional development, a wellbeing benefit for physical or mental health, internet/data cost coverage, new tech setup upon joining, and yearly tech benefits.
This job offer was originally published on Jobicy