Manager, Revenue Accounting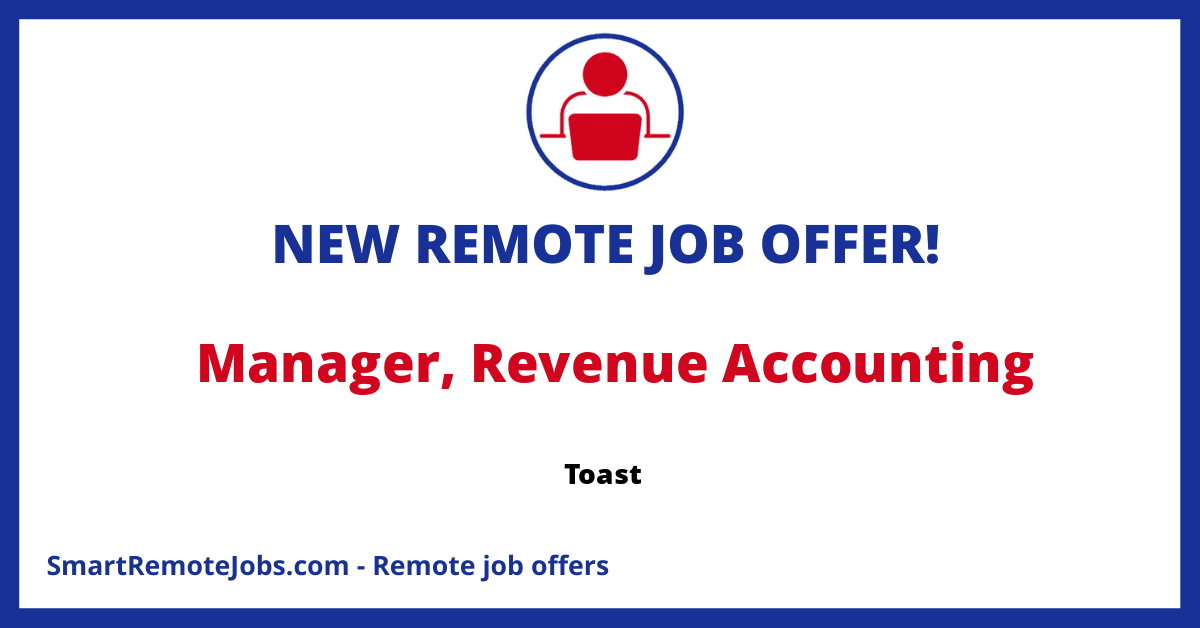 Overview of the Position
This job announcement is for the position of Revenue Accounting Manager at the company Toast. The company aims to serve restaurants through the development of all-encompassing business solutions to improve performance, boost sales, enhance customer engagement, and retain satisfied employees. The primary role of the Revenue Accounting Manager is to ensure that revenue policies are implemented properly, revenue transactions are reviewed, and revenue is recognized in compliance with US GAAP (Generally Accepted Accounting Principles). It is a role that necessitates exceptional problem-solving skills and the ability to thrive in a dynamic environment.
Responsibilities of the Position
The person will bear the responsibility for evaluating the integrity of data and its proper treatment within the revenue subledger. The role entails working in collaboration with Legal, Sales, and Sales Operation teams in non-standard deal structuring. They're also tasked with conducting technical accounting research and drafting memorandums to document accounting conclusions and positions. They are expected to lead in the design, implementation, and execution of key revenue controls. The manager will also handle month-end and quarter-end close activities. The role extends to providing support in internal and external audit requests.
Desired Skills and Experience
An ideal candidate would possess 6+ years of revenue recognition experience, having worked in a Big 4 accounting firm and/or related SaaS (Software as a Service) experience. They should have an extensive knowledge of revenue recognition accounting standards along with strong knowledge of the revenue accounting standard ASC 606. It is also necessary that they possess strong problem-solving skills, excellent verbal and written communication abilities, and have the capacity to work cross-functionally and at various levels within a company. Certification as a Public Accountant (CPA) and experience with NetSuite, Salesforce, and RevPro is preferred but not necessary.
Compensation and Benefits
Toast offers a competitive salary and benefits package and encourages a healthy work-life balance. The base salary range for this role is $100,000—$160,000 USD. Other rewards include cash compensation, equity, and benefits.
This job offer was originally published on Jobicy