Senior Copywriter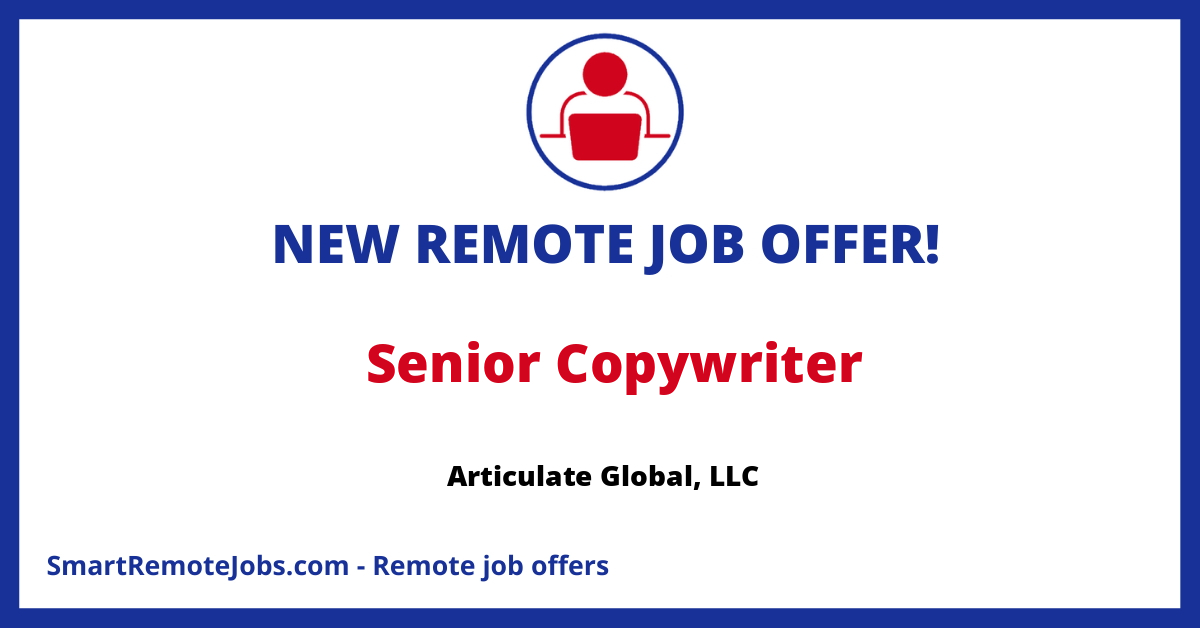 Articulate Seeks Senior Copywriter
Articulate is recruiting for a Senior Copywriter to join its expanding team. The selected applicant will be responsible for creating original campaign concepts and engaging copy that aids the positioning of the brand and its suite of products. The writer will bring to the role strong writing, editing, and creative problem-solving skills, and in-depth knowledge of B2B copy trends.
As a Senior Copywriter, the candidate will grasp a comprehensive understanding of Articulate's customers, brand, and industry. They will understand the value of the company's products and communicate that clearly. Their work will contribute to best-in-class brand creative that encourages consumer action.
Role Responsibilities
The Senior Copywriter will write impactful copy supporting all digital marketing channels, aligning with funnel objectives. Reporting to the Senior Manager, Copywriting, this role will allow the candidate to develop their writing skills by taking on diverse projects. The ideal candidate needs to be creative, adaptable, a self-starter, a team player, and an effective communicator.
In this position, the writer will handle multiple projects at a time, incorporating input from creative leadership, marketing, and other stakeholders. The role involves conceptualizing and creating copy that reflects the brand tone and voice of Articulate, maintaining a high level of detail. The candidate will track B2B marketing copy trends and share insights with the team to foster an atmosphere of continuous learning.
Desired Skills and Experience
The ideal candidate should have 5-8 years of experience in a B2B SaaS writer role, or as an eCommerce copywriter. The candidate should have exceptional writing skills, with proficiency in writing for various digital marketing channels, and an ability to balance creativity with adherence to brand guidelines. Outstanding time management skills are necessary, along with excellent proofreading and editing skills. A four-year college degree, or equivalent experience, is required. The salary range for the position is $74,600 to $112,000, and the role is bonus eligible.
About Articulate
Articulate Global, LLC, is a leading SaaS provider for creator platforms for online workplace training. Founded in 2002 by Adam Schwartz, Articulate helps businesses develop, deliver, and analyze engaging and effective online workplace training. Product suite includes Articulate 360, named the 7th most-loved product globally by TrustRadius in 2021, and Rise, a comprehensive online training system.
This job offer was originally published on Jobicy