Affiliate Marketing Manager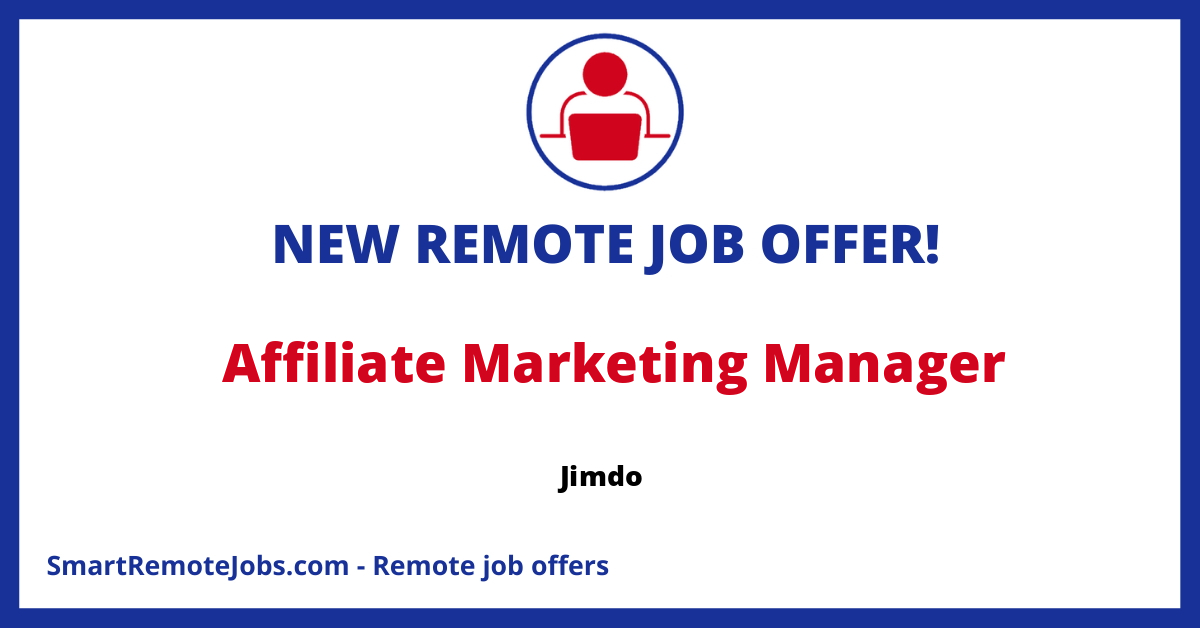 About Jimdo
Established in a North German farmhouse by three school friends in 2007, today, Jimdo operates out of numerous countries with more than 250 personnel, representing 50 distinct nationalities. Jimdo caters to the unique needs of microbusinesses, offering several solutions including an AI-powered, GDPR-compliant, website builder, online store, legal text generator, logo creator, SEO, and social media integration, amongst others.
Jimdo has recently introduced Business Builder - an all-in-one product designed to facilitate easy and quick transitioning of individual prospective entrepreneurs in Germany from ideas to started businesses. Committed to improving microbusiness owners' lives and inspiring expansion through new product development, Jimdo offers employees an opportunity to make significant contributions to a dynamic remote company.
Affiliate Marketing Manager Position
Jimdo seeks an experienced Affiliate Marketing Manager to scale their paid marketing across Jimdo's media channels. The selected candidate will be involved in planning and guiding the broad Affiliate Program strategy, optimizing channel performance, managing campaign implementation and optimizations, forging and maintaining strategic alliances with affiliates, and aligning the program's achievements with Jimdo's main business priorities.
Detailed Role Functions
The Affiliate Marketing Manager's key responsibilities will include the development and execution of strategies designed to identify affiliates while enhancing relationships with existing affiliates; the planning, deployment and active management of campaigns optimized for maximum conversion and return on investment; and tracking affiliate performance and generating insights for decision-making amongst other roles. The Manager will manage budgets for various affiliate marketing initiatives and drive constant improvements in strategies for increased affiliate engagement.
Person Specifications
The Affiliate Marketing Manager should be experienced in a similar role, preferably in a subscription-based business with significant growth. The Manager should be versatile in the use of SaaS tools and demonstrate strong affiliative management expertise, excellent interpersonal skills, and effective organizational skills. Fluency in English is essential for effective communication within the business.
Benefits
Jimdo offers a flexible and trusting work environment, ensuring space for innovative ideas and opinions. The company offers remote work setup, flexible working hours, support for personal projects, continuous growth, and career development.
This job offer was originally published on Jobicy