Aha!: Sr. Security Engineer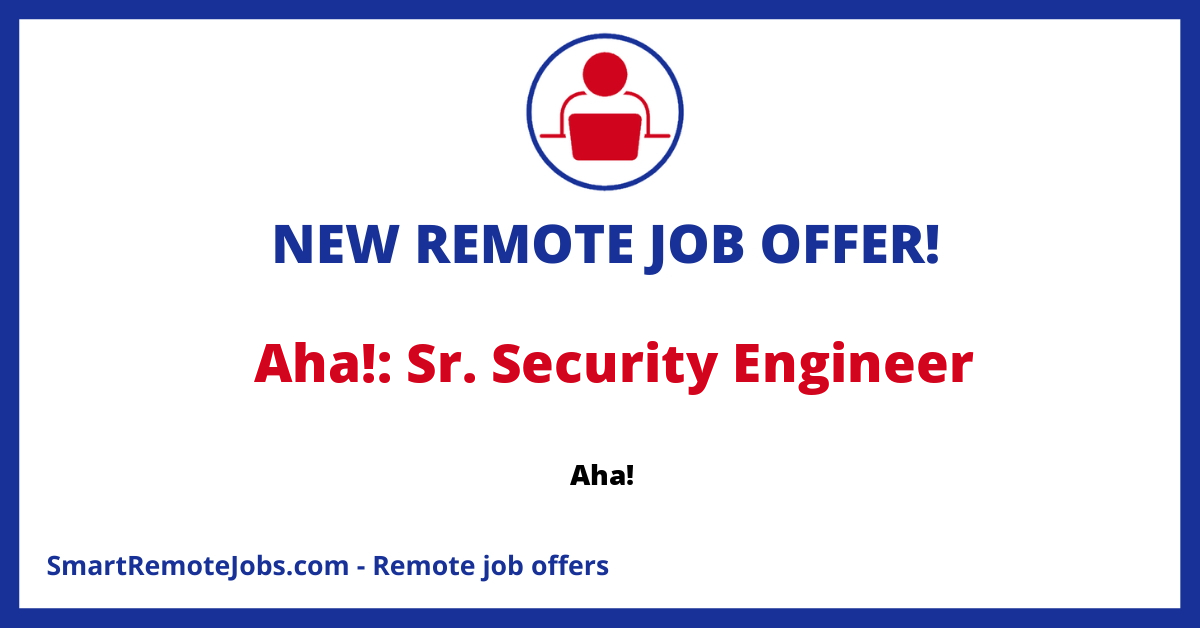 About Aha!
Aha! is a software company that assists organizations in building lovable software. They provide top-rated product development tools, including Aha! Roadmaps, Aha! Ideas, Aha! Notebooks, and Aha! Develop, which are utilized by over 700,000 builders. Their expertise and guided templates are relied upon by product teams across industries.
The company is self-funded, profitable, and operates on a fully remote basis with a large customer base. Aha! is recognized as one of the leading fully remote companies and has contributed over $1M to those in need through their Aha! Cares corporate responsibility program.
The Aha! Team
The Aha! engineering team is a medium-sized, high-performing remote group that operates across North American time zones. The team is known for helping members grow through unique skill sets and an efficient onboarding program. They are agile, shipping code several times a day and focus on delivering valuable features to their customers. The team values product over process, and they share their technical learnings amongst each other and with the development community through their engineering blog.
Technology at Aha!
The company's web application is built as a single-instance, multi-tenant Ruby on Rails monolith supported by Postgres, Redis, and Memcached. They also run a Node.js web server for collaborative editing and real-time updates. To deliver the best client-side experiences, they utilize React for features like their collaborative text editor, presentation editor, and Gantt chart.
Role of Senior Security Engineer at Aha!
As a Senior Security Engineer, you will primarily work with Ruby on Rails and JavaScript for security reviews and implementing security features. An ideal candidate for this role has over 4 years of experience working in Ruby on Rails/Security, has been an active collaborator on security code reviews in Ruby on Rails applications, and has experience building features at a high-growth SaaS company.
Bonuses of Working at Aha!
Aha! believes in growing with their employees offering benefits such as profit sharing, medical, dental, and vision plans with 100 percent of the premiums covered, and up to 200 hours of paid time off annually.
This job offer was originally published on We Work Remotely