Tidio: B2B SaaS Account Executive (North America-based SMBs clients)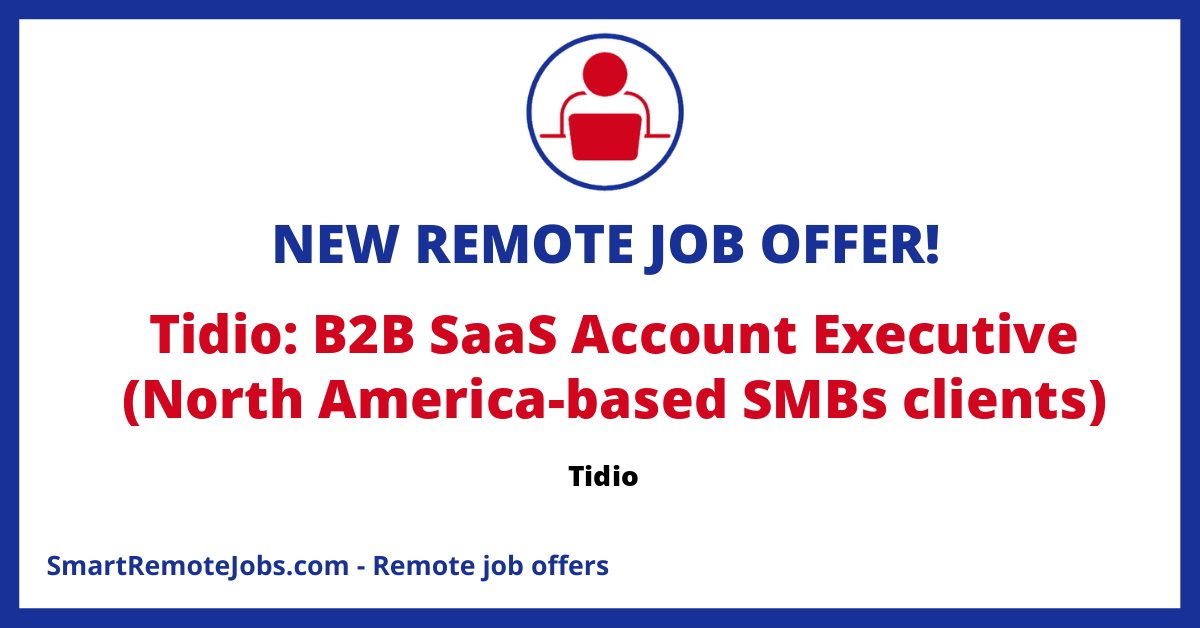 About Tidio
Tidio is a fast-growing tech company with an AI-driven platform that helps small and medium-sized businesses enhance their service delivery and grow sales. The company is recognized globally, with their widget viewed by 510 million unique users. 70% of customer questions successfully get answered within seconds by their advanced AI feature. They've raised $25 million in a Series B investment round and currently have over 180 employees.
Job Opportunity
Tidio is looking to expand its team by hiring a B2B SaaS Account Executive in North America. The ideal candidate will demonstrate 2 years of experience in a similar role, selling to US-based clients. Good grasp of English is required. Job role includes building a pipeline of opportunities, closing deals, managing upsells, creating relationships with top clients, and generating new revenue. The Account executive is expected to work within the PDT/MST zone (8 AM to 4 PM).
Job Benefits
Tidio offers several perks including remote work, professional development, flexible work time, 26 days off, wellness benefits, private medical care, mental wellbeing program, free access to e-book/audiobook services, regular social events, and discounts on Apple products.
Application Process
The application process involves an initial CV review, a video recording answering a key question, an online interview, a practical work sample, and a final interview. Tidio believes in fair play and equality, hence the selection is purely based on merit and professional competence.
How to Apply
Interested candidates can apply via the company's page on WeWorkRemotely: https://weworkremotely.com/remote-jobs/tidio-b2b-saas-account-executive-north-america-based-smbs-clients
This job offer was originally published on Jobicy