Senior Account Based Marketing Manager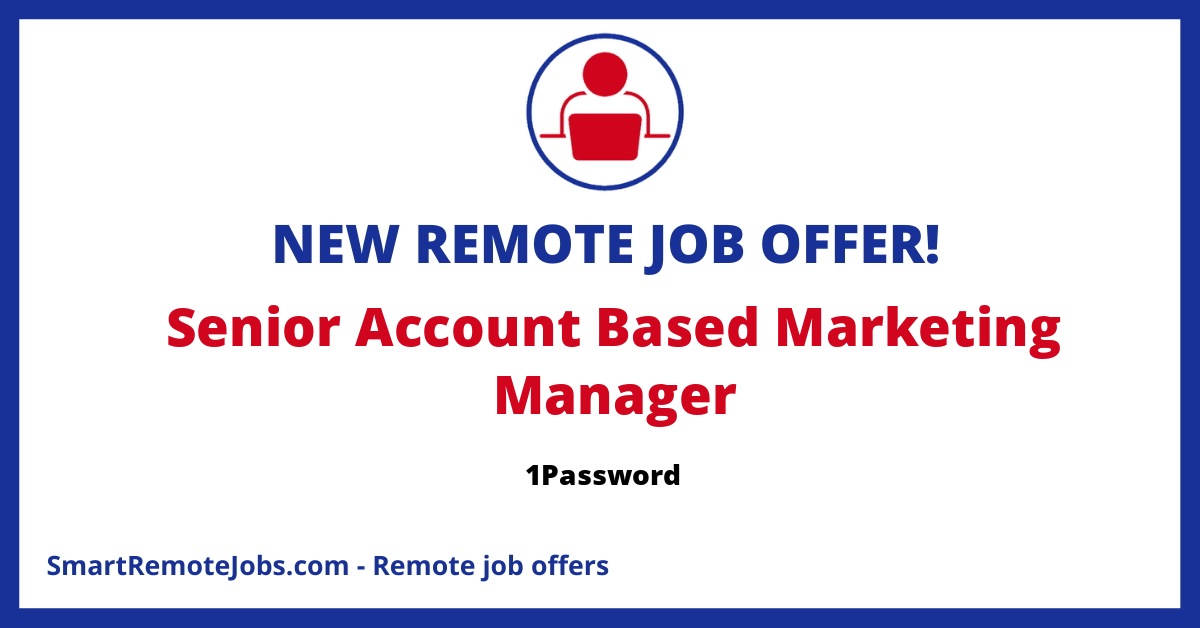 1Password: Your Key to a Safer, Simpler Digital Future
Over 100,000 businesses and millions of individuals trust 1Password for smart, straightforward access to all their most vital, confidential information. 1Password is committed to forging a safer, more streamlined digital future for everyone. The culture deeply values simplicity, honesty, and a human-centric approach to problem-solving, making it a firm that brings peace of mind to all its users. Our primary mission is to help everyone stay safer online.
Role in Account-Based Marketing (ABM) Program
1Password is looking to design an ABM program that would supplement its leading inbound demand generation scheme. The role to be filled is that of the chief architect behind the ABM program strategy. Responsibilities include implementing ABM technology and operationalizing the intent signal follow-up motion. This role will be instrumental in kick-starting the ABM program and educating the organization on ABM methods and workflows. Familiarity with ABM technologies and a passion to drive change will be a potent combination in this role. The successful individual will stay accountable to work cross-functionally with GTM leadership and reps aligning on the ABM strategy. Other responsibilities will include developing the intent follow-up process workflow, driving adoption, promoting daily active use of the ABM platform, and determining ICP and target account lists for the ABM program.
Expected Skills and Experience
Experience implementing 6sense or Demandbase, operating ABM program-based technologies in a growing SaaS business, and working in a SaaS business serving the cybersecurity industry is desirable. Additionally, several years of Marketing experience, the ability to manage an ABM program, strong attention to detail, creativity, and problem-solving ability, as well as a record of understanding ABM levers to enhance opportunity growth, and experience driving adoption and usage of ABM are all essential.
What the Role Involves
Success in this role will be dictated by building appealing messaging to draw, engage and optimize high-value target accounts, engaging with Digital Marketing to devise a digital strategy that engenders a deeper sense of awareness in key accounts, educating other teams on ABM processes, and owning and reporting on monthly ABM pipeline KPIs, budgeting, and forecasting. A respectable annual salary will be provided, including benefits such healthcare, dental care, 401k, paid time off, and participation in incentive programs, plus an equity grant as all employees at 1Password are shareholders.
}
This job offer was originally published on Jobicy