Moonrail Limited (CSGOEmpire): Junior Back-End (Remote; $60k/year)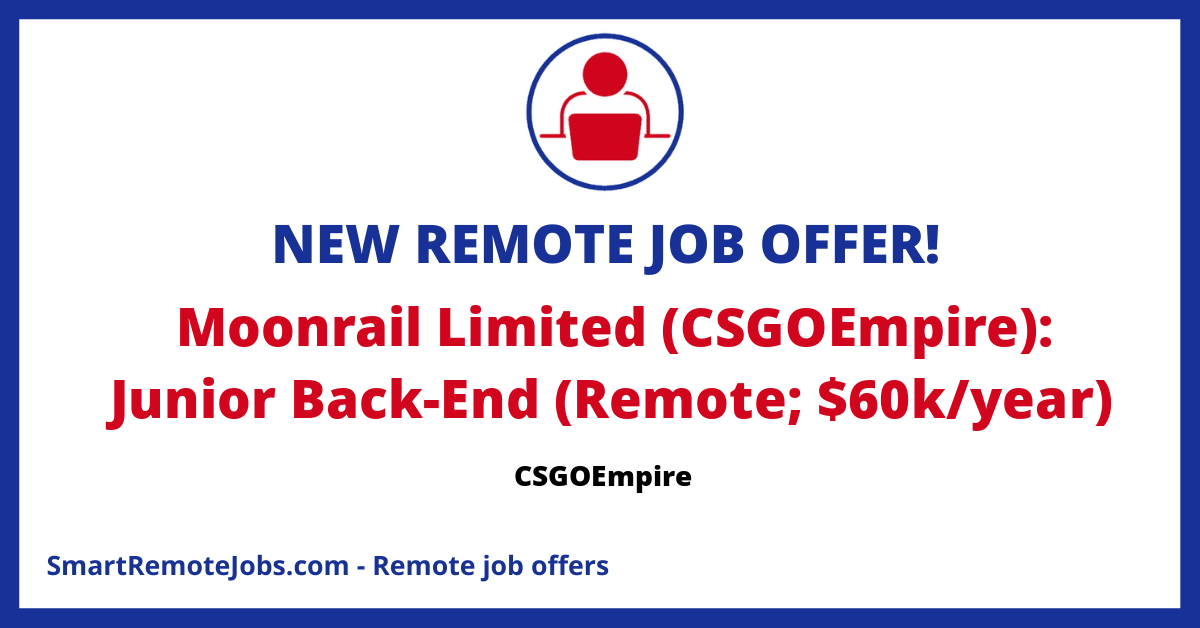 About CSGOEmpire
CSGOEmpire is a company in the gaming and online gambling industry. They are looking for junior back-end coder enthusiasts who are passionate about problem-solving and keen on continuous development. The company aims to hire individuals who strive to hack and optimize anything they set their hands on. They want remote back-end developers with minimum three years experience in PHP 8 (Laravel Framework 10+), MySQL, Redis Cache, Microservices, PHPUnit, Node.js, Docker, Jira, and Git (Gitlab).
The job responsibilities include close collaboration with senior and front-end developers, timely bug resolution, REST API implementation, performance optimization, and many more. The aim is to build massive projects and grow one's career path towards a senior engineer.
CSGOEmpire is keen on individuals with a unique personality, excellent competence levels, outside the box thinking capacity, and ambition. The company values radical transparency, autonomy, responsibility, open communication, and entrepreneurial mindset. They are open about their intentions, goals, and ambitions and expect the same from their employees.
Benefits of Working at CSGOEmpire
The company offers competitive compensation for their junior developers, $60k/year. They provide the opportunity for employees to work from anywhere, as long as they sync with Central European time. The company ensures a flexible schedule and no micromanagement - they trust their employees. They offer unlimited growth and are keen on rewarding those who surpass expectations. They have a unique mission and vision - to make the industry fair, and transparent while they fight off scammers.
CSGOEmpire's Recruitment Process
The company considers university degrees and has no diversity quota. Regardless an applicant's social or educational background, the company considers the candidates holistically. The usual process for shortlisted candidates include technical assessment, interviews, and offers. Unfortunately due to high application volumes, they can't respond to every application. If a candidate does not hear back in two to three weeks, it implies that they've moved on with other candidates.
This job offer was originally published on We Work Remotely