Attaxion: Cybersecurity Digital Marketing Manager - Fully Remote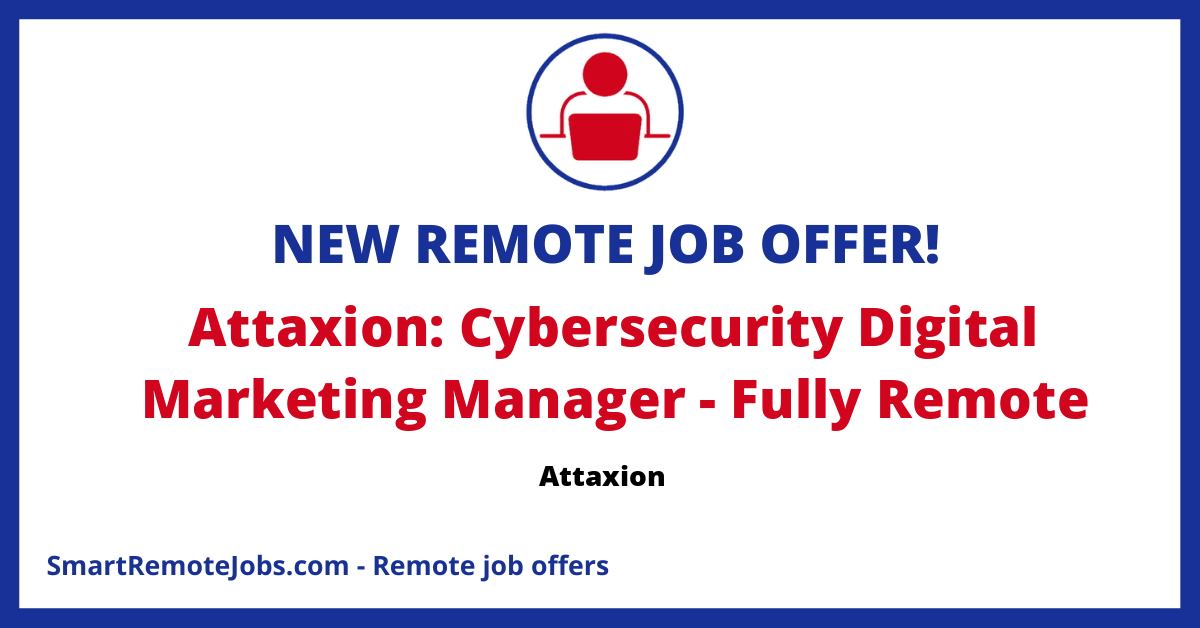 Job Opening: Cybersecurity Digital Marketing Manager at Attaxion
Attaxion, a company based in Delaware, United States, is offering a fully-remote position for a Cybersecurity Digital Marketing Manager. The manager will be responsible for managing various digital marketing campaigns, planning and reviewing content tasks, and leading communications with channel partners. They are expected to evaluate their campaign performances against established goals like lead generation and web traffic.
The ideal candidate will have a vast amount of experience in working with cybersecurity startups, specifically in the SaaS or security platform niche. The candidate should also have a solid understanding of digital marketing channels, have experience in content planning and reviewing written work. A results-oriented candidate demonstrating the marketing ROI for each campaign will stand out. Apart from that, it is critical for the candidate to possess excellent communication, interpersonal, project management, and time management skills. Familiarity with social media planning tools, project management tools, and content management systems is also required.
Major Responsibilities
The job involves developing tangible digital marketing and content strategies to increase the visibility of the platform and the number of inbound leads. The manager will plan and execute digital marketing campaigns across various channels. They are also expected to plan content strategies and editorial calendars, conduct competitor research, and manage communications with third parties.
Required Qualifications
Candidates are required to possess a bachelor's or master's degree or equivalent qualifications in marketing, communications, and cybersecurity. A minimum of seven years of experience in digital, content marketing, and three years in a cybersecurity-related job, preferably in SaaS or security platform vendors, is required. Fluent-level proficiency in English is a must.
Interested candidates can submit their applications via the link provided.
This job offer was originally published on Jobicy