Sr. Data Scientist, Support Operations and Trust & Safety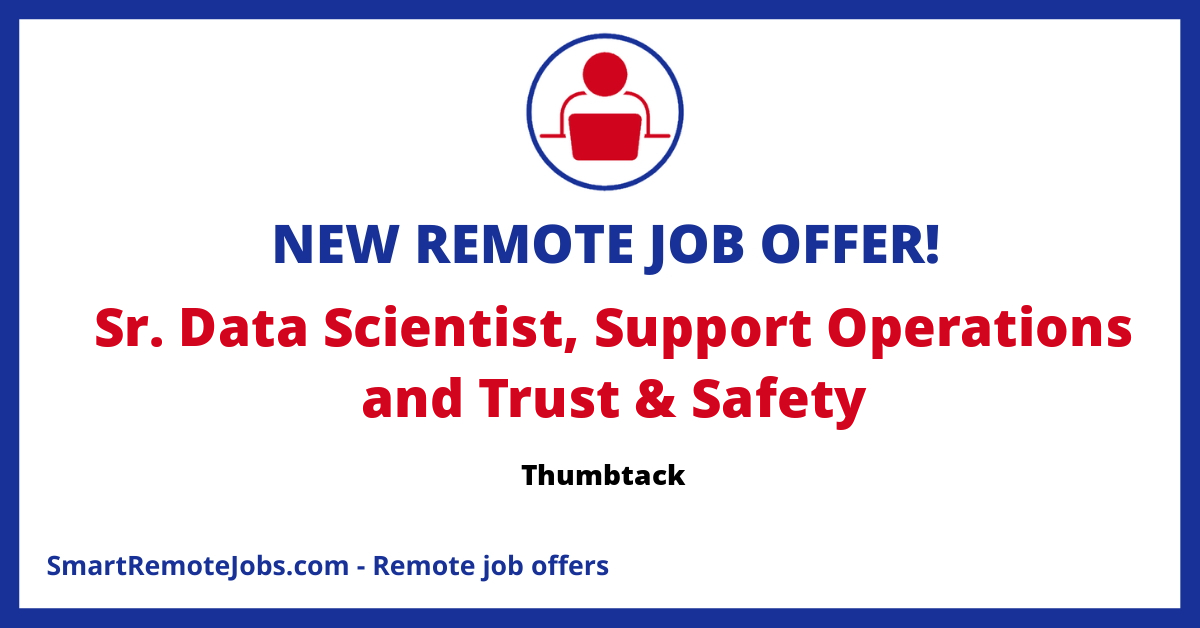 About Thumbtack
Thumbtack is an app designed to assist homeowners in managing their biggest investment: their homes. The app has seen national reach across the U.S., showing up in every county and facilitating over 75 million projects. It has served approximately 4 million customers in the last 12 months. According to numbers from the last year, professionals have earned billions through the Thumbtack platform. Of note, Thumbtack has carried an estimated value of $3.2 billion as of June 2021.
Data Science at Thumbtack
The Ops Data Science team is a cornerstone of the Thumbtack platform, working to offer actionable insights to various Thumbtack teams (Trust and Safety, Support Operations, Sales, Partnerships, and Product Operations). A Senior Data Scientist at Thumbtack works with other teams to align product and operations strategies. This role involves the analyzing of data, development of unit economics, controlling costs and other responsibilities that drive the growth and efficiency of Thumbtack.
Role Expectations & Requirements
Individuals in the role are expected to conduct thorough quantitative analyses to aid strategic decisions, maintain reports, models and visualizations, and work with multiple teams to measure impact of various initiatives. Successful candidates need to be skilled communicators with strong SQL experience and familiarity with various statistical and programming languages. A BA/BS degree in specific fields and prior experience analyzing user experience data is preferred. Those with a Master's degree in related fields or experience with contact center data and certain data science tools may earn bonus points.
General Information
Thumbtack is a virtual-first company, allowing employees to work from various approved locations across the United States, Canada, and the Philippines. Salary for the role varies depending on location and a range of other factors.
This job offer was originally published on Jobicy