Tech Guys Who Get Marketing: Data Engineer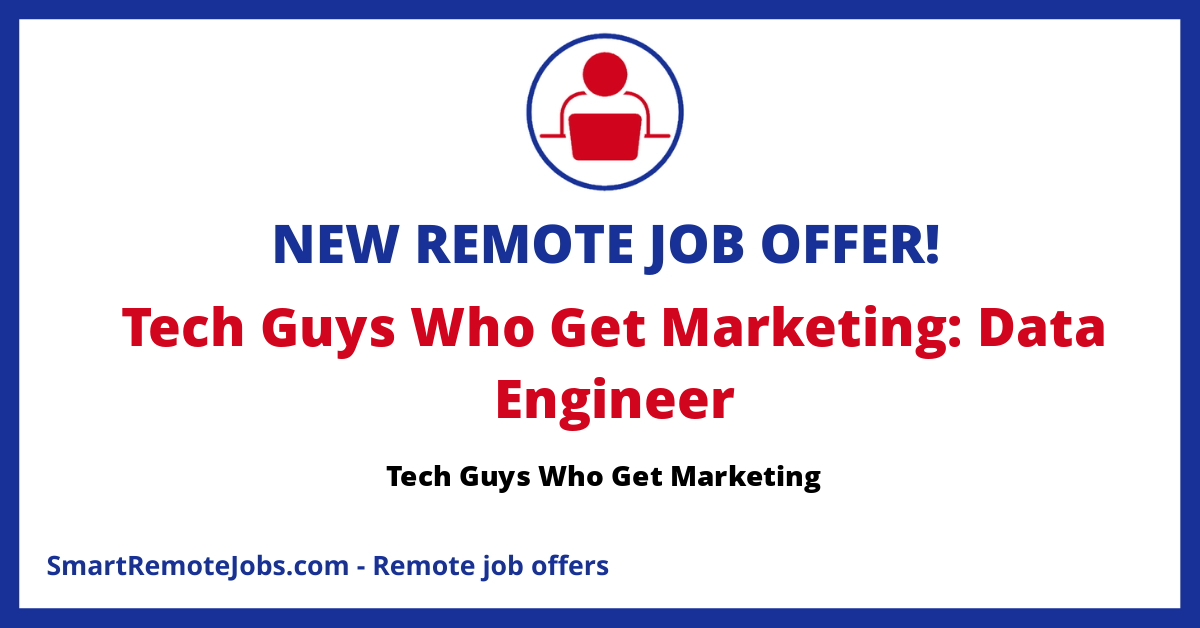 About the Company
Tech Guys Who Get Marketing is a technology and marketing agency known for providing creative solutions that impact the organization positively. The company's team members renowned for their unique combination of technical expertise and deep understanding of marketing strategy sets them apart. The organization provides an equal opportunity and doesn't allow discrimination based on age, ethnicity, gender, race, religion, sexuality, or socio-economic status.
Job Description
The company is hiring a Data Engineer whose role includes helping find, strategize, research, and recommend technical solutions to clients. The individual will also provide technical support to clients not only to meet their budget or technical needs but also help achieve their business objectives. This includes tasks like recommending solutions to clients, custom developing SaaS apps or functionality, backend administration, and even writing technical documentation. The individual should also be comfortable in attending client calls and articulating strategies.
Qualifications
The ideal candidate has at least 3+ years of experience in data engineering along with a strong background in Python, SQL, and data warehouses such as Snowflake, Databricks, BigQuery, etc. Experience with dbt is highly preferable. They must be able to work remotely and maintain excellent communication with the team, be comfortable attending client calls, and be able to learn new platforms and tools when needed.
Job Details
This job opportunity is offered as a freelancing contract with an expected workload of 25-30+ hours per week. The pay range is $50-75 per hour, and the work is skill-dependent. The individual must have access to a computer and be able to use company tools including Slack, Zoom, Salesforce, and Monday.com. The company does not require or expect any weekend work.
Application Process
To apply, candidates need to record a video, explaining why they should be considered for the position and send it along with their resume and any relevant work examples to hr@techguys.co.
This job offer was originally published on We Work Remotely