Head of Performance Marketing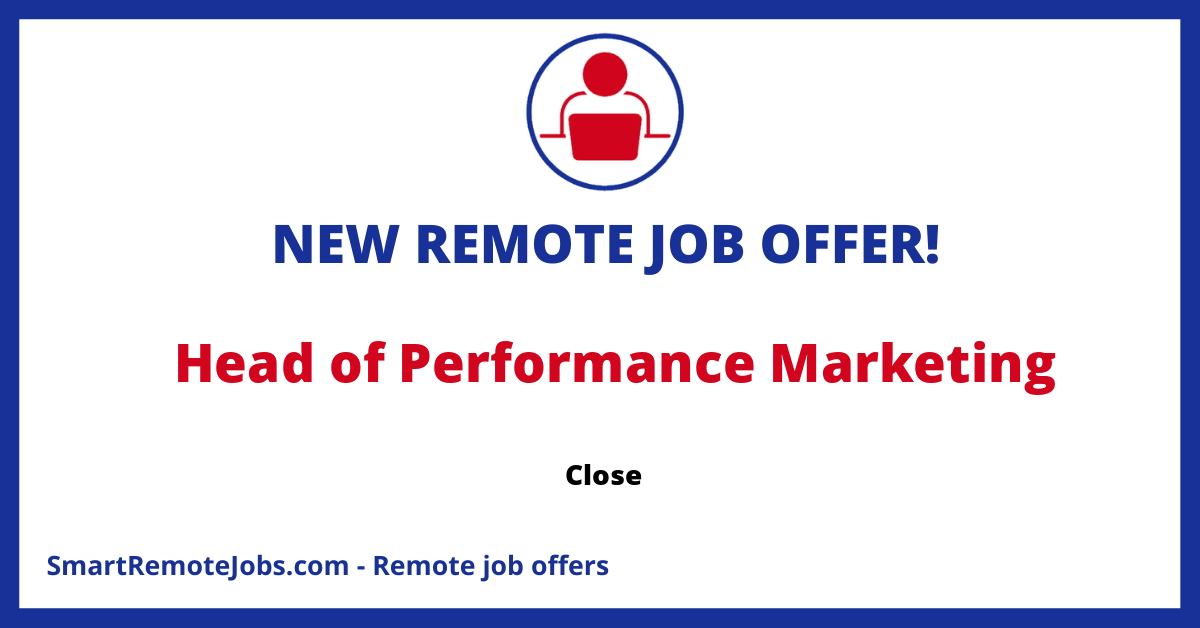 Job Opening: Head of Performance Marketing at Close
Close tackles CRM by providing a platform focused on effective communication, minimal data entry, and a simple UI. Their goal is to double each sales rep's productivity.
The company is looking for a Head of Performance Marketing. This role will require managing the company's performance-based customer acquisition channels, such as paid partnerships, affiliates, and email marketing. The aim is to implement and control multi-channel campaigns that increases both leads and pipeline. This role becomes key in exploring, scrutinize, and report all potential avenues for sustainable customer acquisition. It will necessitate managing individual contributors while creatively steering the team and leveraging its existing skills by drawing from your rich performance marketing experience.
About you:
The candidate should have a minimum of six years of experience in performance marketing roles within the B2B SaaS market, particularly familiar with the SMB tech stack. A minimum of three years of experience in a marketing leadership role is also required. Apart from being an empathetic and thoughtful people manager, you should be well-versed in SEO, SEM, and analytical tools. Exceptional skills in working with spreadsheets, writing SQL and performing functions like VLOOKUP, SUMIF, and others are also required. You should be physically based in the US.
About the role:
The role involves managing and boosting the company's existing performance-based customer acquisition channels. It will involve supervision of staff between 3 to 6 from day one while supporting their personal and professional growth. Part of the role will entail identifying, testing, and iterating a wide variety of customer acquisition campaigns. Recommendation to the leadership team on the best resources deployment tactics is also key to this role. The role also includes effectively working with the Sales team in identifying and implementing new strategies and tactics within the existing channels.
About Close:
Close offers numerous benefits for its employees like: annual team retreat, remote working facilities, substantial PTO plan, paid sabbaticals, parental leaves, a sound health plan and options for FSA and 401k. Close operates in 22+ countries and is based on an asynchronous communication structure ensuring a more flexible work environment. They believe in a mature workplace with responsible time management and high-quality output, while placing a high amount of trust and responsibility with the team members.
This job offer was originally published on Jobicy