Aha!: Sr. Ruby on Rails Engineer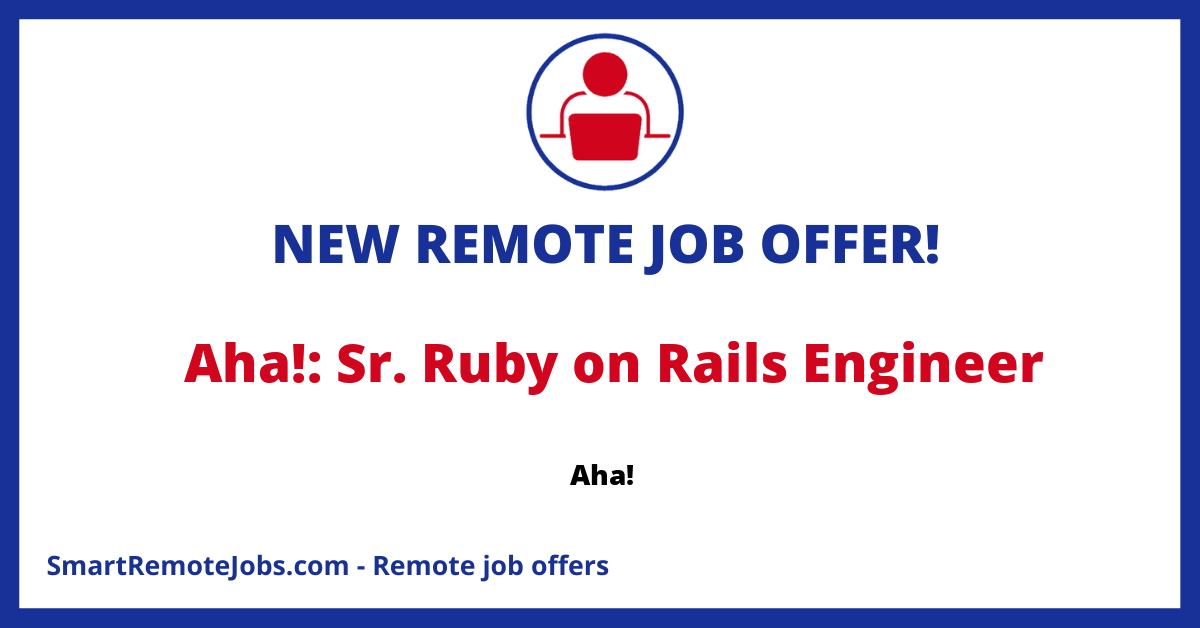 About Aha!
Aha! is a software company with a difference. Without external funding, Aha! has managed impressive growth and profitability while focusing on delivering superior software for product development. A completely remote company, Aha! proudly boasts of being the #1 choice for over 600,000 product builders.
Our Products
We offer an array of tools including Aha! Roadmaps, Aha! Ideas, Aha! Notebooks, and Aha! Develop to plan, track, and focus on product development collaboratively. And through our Aha! Academy, we provide training to further enhance product development expertise.
Our Team
A mid-sized, high-functioning team, Aha! engineering values each members' unique skills and fosters professional growth. We feature daily shipping, value product over process and actively share knowledge. The team operates within North American time zones and takes pleasure in the tasks at hand.
Our Technology
A single-instance, multi-tenant Ruby on Rails monolith steers our web application, supported by 'Postgres', 'Redis' and 'memcached' and hosted on Amazon Web Services. We also run a Node.js webserver for real-time updates and collaborative editing, and consistently embrace new technology that helps us deliver an enjoyable product.
Your Experience
We seek cloud-based product functionality builders with valuable teamwork and strong problem-solving skills. Experience in Ruby on Rails is a must with prior work at a significant scale beneficial.
Your Role at Aha!
As a Senior Ruby on Rails Engineer, you will work across the entire MVC on diverse features, actively participate with the product and UX, optimize performance for an efficient Aha! experience and directly interact with users to resolve bugs.
Grow with us
We offer the scope to reach your ultimate potential in a high-growth environment working on tasks that matter with people you value. Besides a competitive salary, we provide benefits including profit sharing, comprehensive health plans, paid time off and learning opportunities.
This job offer was originally published on We Work Remotely