Regional Growth Marketing Manager (UK/CA/AU)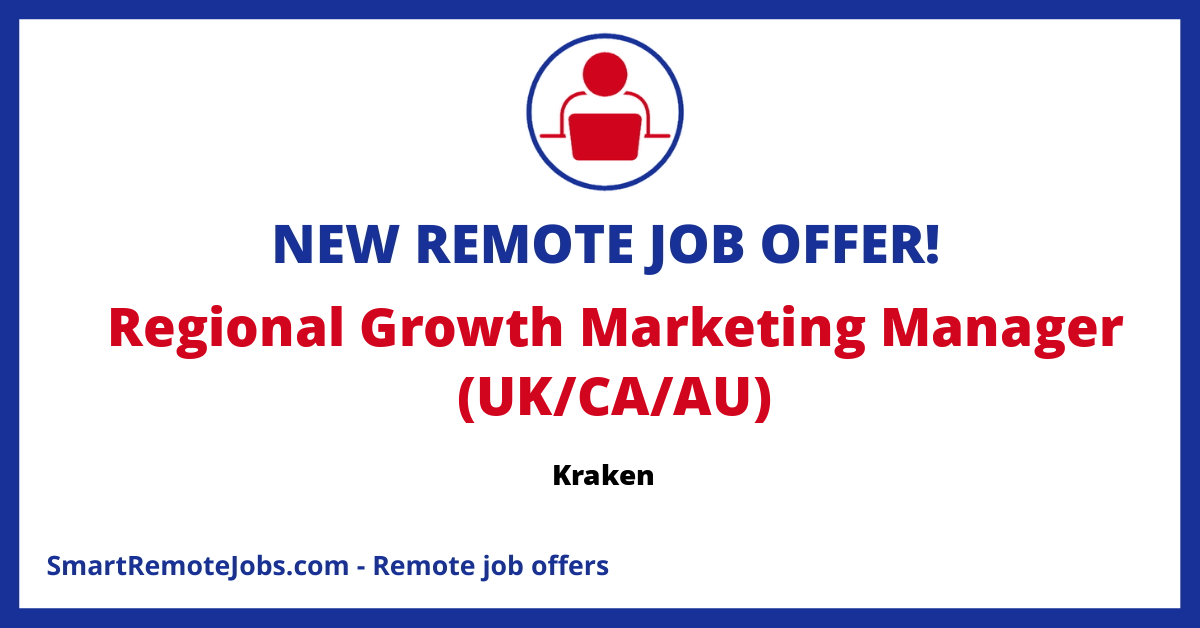 About The Kraken Team
Kraken describes itself as a mission-focused crypto company aiming to drive global adoption of crypto technology for financial freedom. They've been working towards this for more than 10 years and have attracted top crypto talent worldwide.
Kraken is searching for recruits (Krakenites) who share their mission and are eager to advance the future of crypto.
The Role: Regional Growth Marketing Manager
A position is available within Kraken's Growth Marketing Team, which drives user and revenue growth across different product verticals and regions. Being a swiftly expanding team in the crypto space, they're specifically looking for a Regional Growth Marketing Manager to handle operations in the UK, Canada, and Australia.
The candidate is expected to be ambitious, willing to address complex issues, and able to make informed recommendations based on data analysis. They should also be comfortable with cross-functional collaboration, and not shy away from hands-on work.
This role will be reporting to the VP Growth.
Opportunities and Responsibilities
The hired manager will work with directors in the UK, Canada, and Australia plus global operations. They will handle the development and execution of the regional growth strategy for business segments including Consumer, Pro, and Institutional clients.
Major responsibilities include understanding the local markets, shaping the approach to international growth, involving stakeholders, tracking key performance metrics, and identifying growth opportunities. They're expected to work cohesively with key teams and align global strategies to regional needs.
Required Skills
Applicants need to have at least five years of experience in pertinent fields such as growth marketing, regional marketing, product marketing, or integrated marketing, ideally in fintech/tech company settings. Other skills that are crucial: strong analytic skills, ability to operate in a matrixed environment, understanding regulatory nuances across different countries, and an interest in cryptocurrency.
Kraken emphasizes that they value diversity and hire based on merit, encouraging anyone passionate about crypto to apply, even if they don't fully meet the job's requirements.
This job offer was originally published on Jobicy