Staff Data Scientist, Advertiser Platform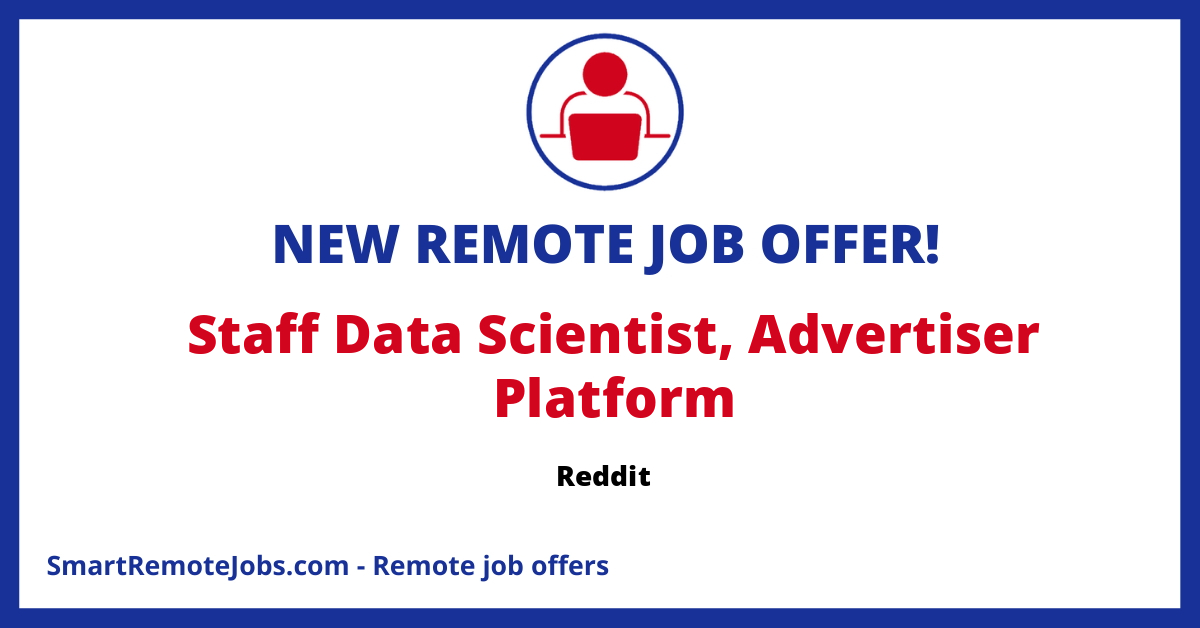 About Reddit
Reddit is a global platform with over 50 million active users that enables people to engage in discussions and share content about their interests, hobbies, and passions. Reddit's primary income source is from advertising and aims to grow its advertising platform. The company focuses on community-centered experiences, making it an attractive destination for advertisers.
Job Overview
The company is seeking a Product Data Scientist to enhance its Ads Platform. This remote-friendly role involves strategizing with product engineering teams, assisting with product development, analyzing the advertiser's experience and testing platform improvements. Collaboration with cross-functional teams, including Product Managers, Engineers, Designers, is crucial.
Key Responsibilities
The new hire will work with the Ads Platform product team on the launch of new products designed to enhance the Advertiser experience on Reddit. Other responsibilities include conducting product-oriented research to identify new business opportunities for the Ads Platform team, designing data table schemas, pipelines, alerts and overseeing the general data infrastructure.
Desired Qualifications
Applicants should have a minimum of 5 years of experience in data analytics or a related quantitative role. Strong skills in SQL and statistical analysis/programming languages such as Python or R are required. Experience in online advertising and ads marketplaces is desirable. Additionally, the ability to communicate complex subjects to both technical and non-technical audiences is essential.
Benefits
The firm offers substantial health benefits, 401k Matching, workspace benefits for home offices, family planning support, and generous paid time off. Eligible employees may receive equity in the form of restricted stock units and, depending on the position, a commission.
Pay Transparency
Transparency is crucial to Reddit. The firm provides base pay ranges for all US-based job postings. The base pay range for this position is $198,200—$297,300 USD. This figure is determined by benchmarking similar stage growth companies and may vary depending on skills and work experience.
This job offer was originally published on Jobicy