Web3 Growth Lead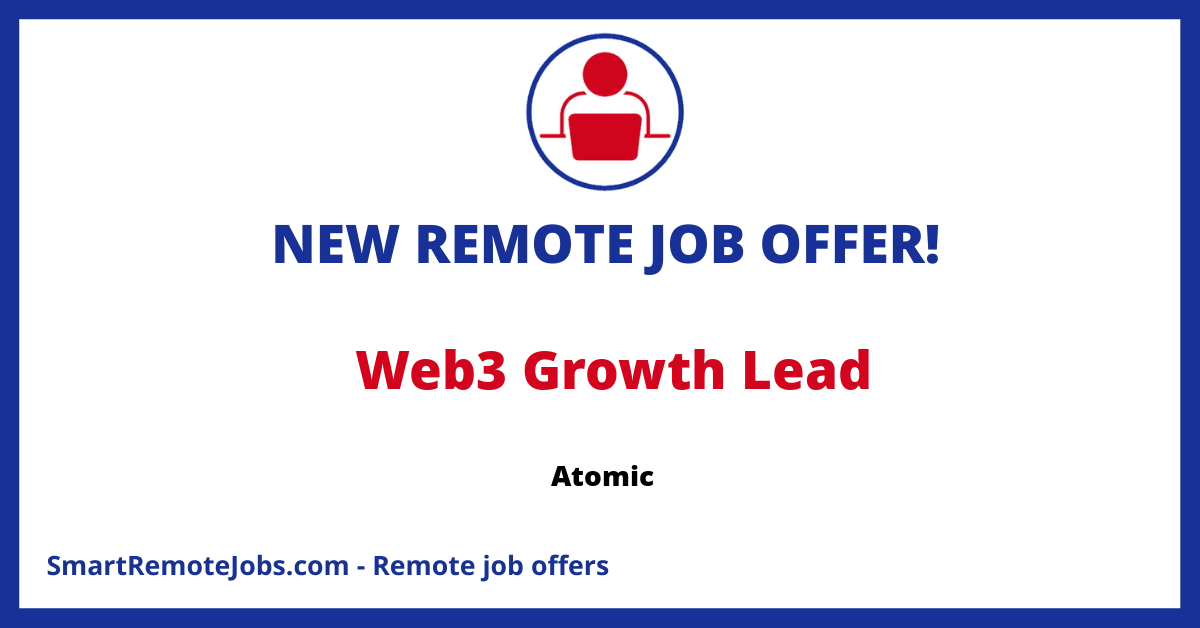 About Atomic and the Role
Atomic is a venture fund noteworthy for founding companies. Established in 2012, Atomic asserts that to achieve disruptive innovation, you must pair business discipline with innovative ideas. They are adamant that building these ideas into businesses is not a task that can be outsourced. As engineers and entrepreneurs, Atomic takes up the challenge of operating and building the next generations of leading companies.
At present, Atomic is in the process of hiring a full-time Web3 Growth Lead. This individual will be expected to join a high-growth stealth web3 consumer company in Atomic's portfolio.
Role Description
The Web3 Growth Lead's responsibility will extend into several fields. They will construct user acquisition strategies, lifecycle programs, and growth loops to procure and retain consumers for their products. Creation of engaging user content will be paramount. The channels to engage include Twitter, short-form video content platforms like Youtube, TikTok, and longer-form editorial content. Furthermore, the role includes fostering the company's brand within the crypto user community through organic social, community, and partnerships channels. The Lead will manage and grow the community across Discord and other social channels, and collaborate closely with the product and growth marketing team. They would also source and execute partnerships to increase brand awareness and attract new users.
Requirements
The ideal candidate will possess a passion for the web3 space and harbor a vision to build a generational company within the industry. They should have previous experience in the Web3 space. An entrepreneurial mindset is a necessary attribute, with an ability to independently deliver results in an efficient environment. Other key skills include strong analytical problem solving, excellent writing and project management capabilities, and an innate curiosity and eagerness to learn about building a business.
A Commitment to Diversity
Atomic emphasizes the importance of building a diverse and inclusive workforce. They encourage applications from candidates who are excited about the role even if they do not meet 100% of the listed qualifications. Atomic operates as an Equal Opportunity Employer and follows the San Francisco Fair Chance Ordinance, extending employment opportunities to all qualified applicants without any discrimination forbidden under federal, state, or local law.
This job offer was originally published on Jobicy