Sr. Content Marketing Manager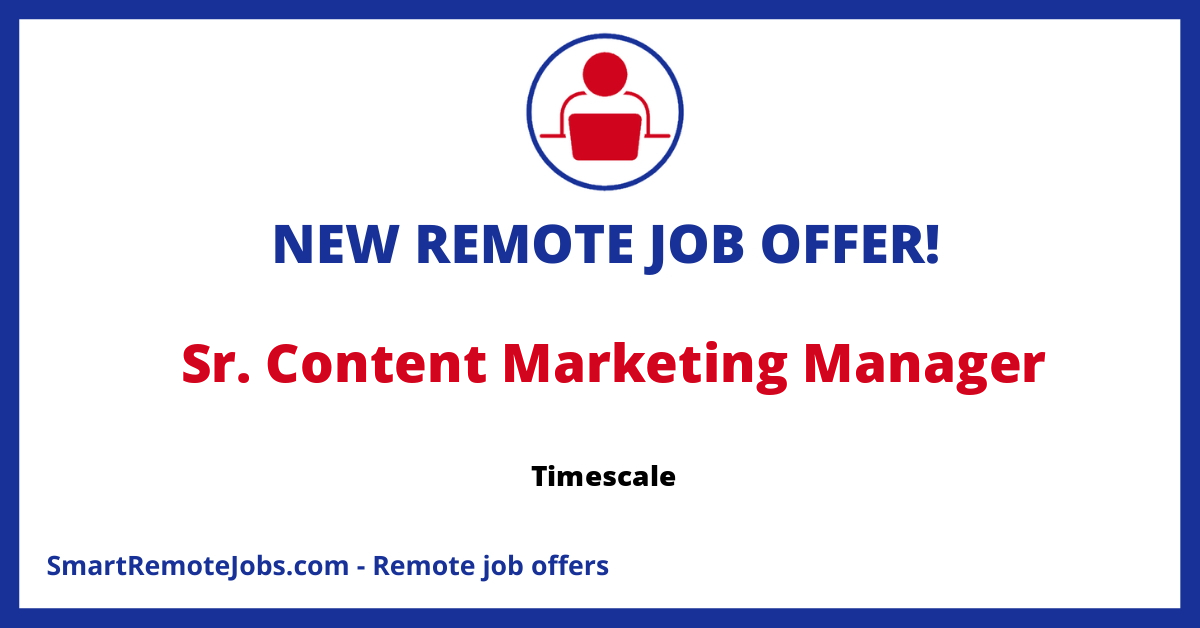 Senior Content Marketing Manager Job Description
An opening has presented itself at Timescale for a dynamic, strategic, and creative thinker for the role of a Senior Content Marketing Manager. This individual will be in charge of managing and creating a myriad of contents - from core web pages to paid ad copies, landing pages, ebooks, and whitepapers, for our websites and marketing initiatives. Ideal candidates will flourish in a fast-paced environment and exhibit pleasure in the challenge of assuming full ownership and responsibility for delivering high-quality content that propels awareness, increases conversion rates, and stimulates general interest/engagement in Timescale.
This role requires a candidate who possesses an ability to partner effectively with design and development teams to deliver a complete product. Creating video and interactive content is an added advantage. The ideal candidate loves developers, avoids buzzwords and jargon, and has a proven record track in bringing developer products to market. Having developer marketing experience is necessary and having experience with cloud products would be a bonus.
Key Responsibilities
The candidate will be expected to use performance insights, competitive and market analysis, and business objectives to define the content marketing strategy for the website and other digital channels. They will be tasked with creating various forms of content - from landing pages to case studies, maintaining the highest editorial oversight while staying consistent with brand tone, messaging, and visuals. The successful candidate will take the leadership position in content execution by coordinating content roadmap, calendar, deliverables, and timelines with stakeholders, web developers and designers.
They are also expected to conduct content audits, run A/B tests, and optimize content to enhance the customer journey and increase conversion and engagement metrics. They will also need to stay on top of competitor messaging, industry practices, regulatory requirements, and customer challenges. They will also be expected to manage contractors necessary to complete projects.
About You
We're looking for a self-starter who has 5+ years of experience in content marketing with a strong track record for developer-focused marketing. The individual is expected to have the ability to strategize, create and scale projects with a lot of autonomy and a keen eye for problem-solving. Expert organizational, written/verbal communication skills, impeccable writing and editing skills with a high attention to detail, and experience in SEO, keyword research, and optimization are required. Proficiency in written and spoken English language is a must.
This job offer was originally published on Jobicy