Sr. Software Engineer – Frontend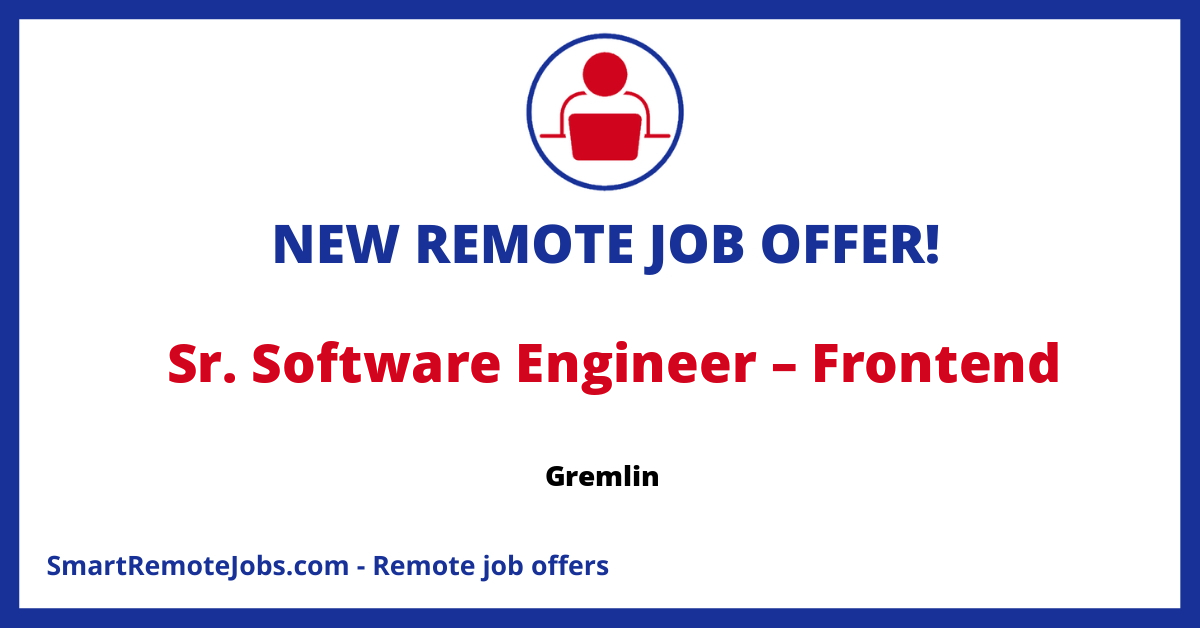 About Gremlin and the Role
Gremlin seeks to enhance Internet reliability through Chaos Engineering. With enterprises like Target, Twilio and JP Morgan Chase relying heavily on uptime for their complex, distributed SaaS applications, Gremlin's platform uncovers risks and weaknesses unaddressed by conventional DevOps and IT operations processes. They currently have an open position for a Senior Software Engineer, Frontend.
Role Responsibilities
As a Senior Software Engineer, Frontend, the successful candidate will contribute towards the reliability of the Internet by developing Reliability Engineering tooling. They will have the chance to use their engineering experience to assist in product design and solve complex technical problems that directly impact customers. The role involves working in a small team focused on quality, delivery, and predictability, and aimed at providing a great user experience for customers.
Experience and Skills Required
This role requires 5+ years of experience in Frontend software engineering in modern technologies such as TypeScript, JavaScript, React, CSS. The candidate should also demonstrate an interest in infrastructure & systems level technologies like Linux, Docker, Kubernetes, OpenShift. Experience in agile development environments, and a strong background in unit testing and integration testing are also required.
Benefits
Gremlin offers competitive compensation, 401k Match, Stock Options, Flexible PTO, and a comprehensive benefits package. Team activities are regularly organized, and everyone at Gremlin is encouraged to grow both personally and professionally.
About Gremlin
Gremlin is an industry veteran, shaped by a multidimensional team learning from each other. As reliability leaders, they equip top organizations with the mindset and knowledge needed for reliability improvements. Gremlin promotes a diverse and inclusive working environment where everyone has the opportunity to contribute and grow.
This job offer was originally published on Jobicy