Whitespectre: Senior Backend Engineer (NodeJs/Lambda)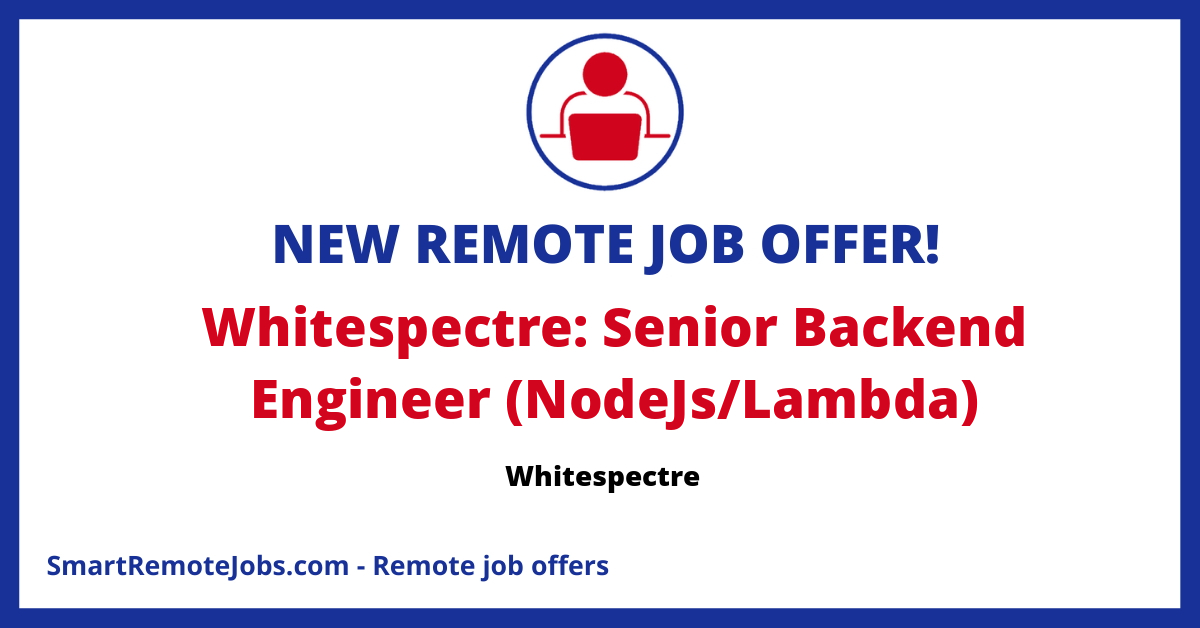 Whitespectre Company Overview
Whitespectre is a product-centric, technology consultancy firm that works with both Venture Capital (VC) funded start-ups and large, established companies across the United States and Europe. Not only do they consult, but they're also a product incubator with their proprietary applications and B2B SaaS platforms. They use a remote-first approach and have been since 2013. Their team is composed of 75 members who work in cross-functional agile pods to solve interesting technical problems and drive real business impact.
The Role of a Javascript Engineer at Whitespectre
Whitespectre is looking for a Javascript Engineer who can think like a product owner while balancing a start-up mentality to deliver rapid value. The engineer will be part of making important architecture and implementation decisions, mentoring other engineers, and staying updated with the latest Javascript techniques and trends. Whitespectre operates on a modern tech stack, which includes Node.js/Next.js/Express, React, Typescript, REST/GraphQL, and much more. They follow an agile two-week sprint methodology, which involves working closely with Product, UI/UX, and Engineering teams to incrementally build and release new functionalities.
Who should Apply
People with a minimum of five years' experience as a Javascript Software Developer and four years' experience with Node.Js should apply. Adding to this, an experience with AWS Lambda is a must, while exposure to React or similar in frontend development is a plus. People who have strong verbal and written English language skills and who have contributed to technical decision-making within a team should apply. The candidate must be available full-time with a significant crossover with the core hours: 11am - 7pm Central European Time and should live outside of the US.
Benefits and Cultural Perks
Whitespectre offers competitive salaries with payments done in USD. Also, there are annual performance and salary reviews, 20 days PTO (Paid Time Off), and 3 charity days annually, with career management opportunities. There are funded meet-ups in Barcelona, South America, and Asia, and Whitespectre assists with relocation as well. They provide a flexible working environment, free English classes, and support educational expenses. A strong work-life balance and an inclusive working environment are fostered.
Applying to Whitespectre
Interested candidates can apply by completing the application form. The application process includes a 30-minute video call for the initial screening, a 60-minute technical interview to assess technical capabilities, and final interviews to confirm the fit and finalize the offer.
This job offer was originally published on We Work Remotely