Sr. WordPress Developer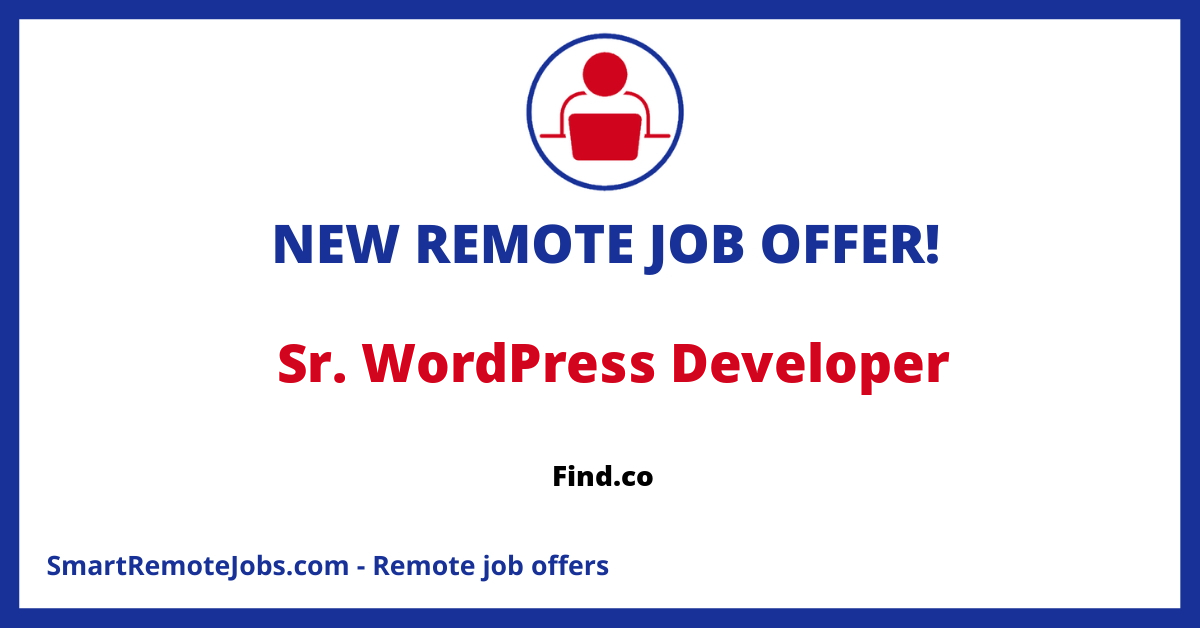 Overview of Find.co
Find.co is a platform that leverages technology and human insight to deliver knowledge and confidence to internet users, especially those interested in Crypto, Finance, Entertainment, Technology, and Software sectors. The primary aim is to assist users in making informed decisions and provide better leads to companies for more profit.
Services and Specializations
With a blend of technology and stringent editorial guidelines, Find.co successfully attracts target customers for businesses, personalizing messages to guarantee they reach the right audience at the right time. They also oversee top sites like cryptomaniaks.com and provide in-depth, unbiased recommendations based on thorough research for navigating the complex crypto space.
Team and Work Culture
The team at Find.co comprises qualified experts working remotely and promoting work flexibility to reflect everyone's lifestyle. This approach not only maintains work-life balance but also encourages an inclusive work environment by minimizing geographical and physical restrictions.
Job Responsibility
The role involves responsibility for both back-end and front-end web development, maintaining website security, structure, content, and performance. It also involves development and testing of procedures related to web development, designing, and managing the website back-end including database and server integration, as well as formulating responsive HTML and CSS3 themes with WordPress. Additionally, one is expected to ensure high SEO benchmark scores via website performance tests.
Job Requirements
The candidate must have 5 years of professional WordPress development experience in an agency or production environment, strong knowledge of PHP with PSRs (PHP Standard Recommendations) & best practices, understanding of databases & SQL, and frontend experience with HTML markup, JavaScript, CSS/CSS3 and responsive design.
Equal Opportunity
Find.co is an Equal Opportunity / Affirmative Action employer that values diversity in the workplace. All applicants will be considered for employment without regard to race, color, religion, sex, sexual orientation, national origin, disability, veteran status, gender identity, or any other legally protected factor.
This job offer was originally published on Jobicy