Million Dollar Dads: B2B Telemarketer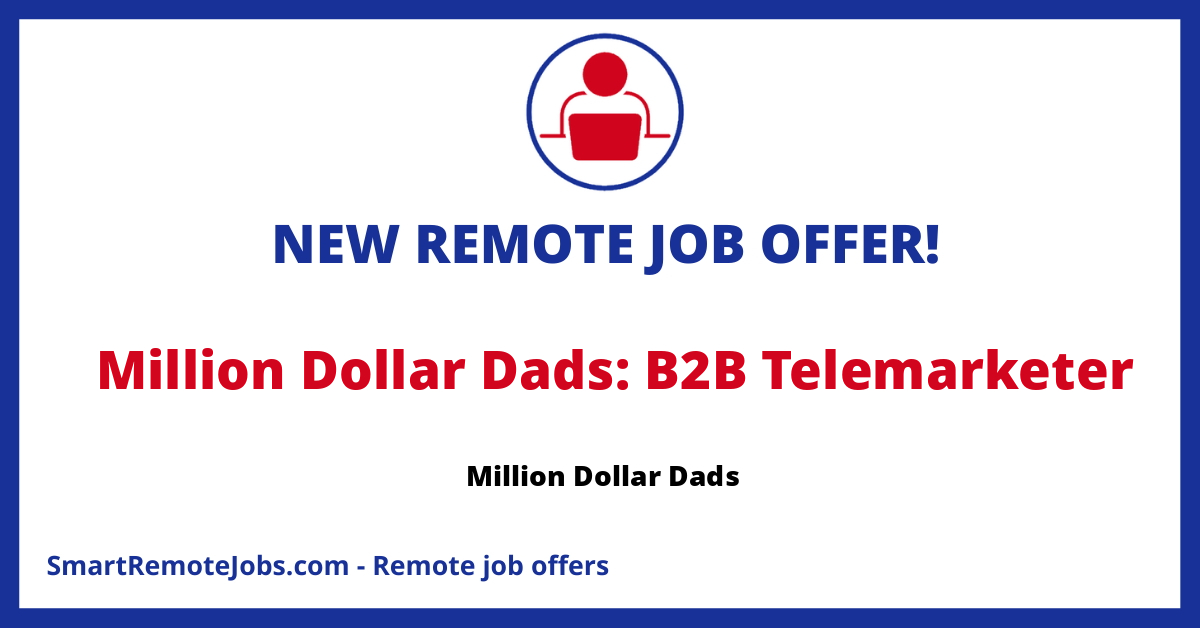 About Million Dollar Dads
Million Dollar Dads is a dynamic venture run by two visionary entrepreneurs. They consistently generate innovative business ideas and are now looking to expand their team to turn these ideas into thriving businesses.
Role: B2B Telemarketer
This role will require the successful candidate to be the voice and heartbeat of the Million Dollar Dads brand, reaching out to businesses, kindling interest and setting appointments for the sales team. The role promises exciting variability, with every call presenting a new adventure.
Earning Potential
The offered base salary ranges between $500 and $700 per month, but with bonuses on every set appointment and closed prospect, there is limitless potential for earnings. A minimum of $1,300 per month is expected, with the goal being $2,500 or more per month.
Requirements
Interested candidates will have excellent communication and interpersonal skills, a resilient and charming personality, and a desire for growth and challenge. They are expected to excel at scheduling appointments, bridging the gap between needs and solutions, and enjoy great bonuses with every successful sale.
Benefits
Working with Million Dollar Dads allows for the flexibility of a remote or location-based role, potential for multiple promotions, and a substantial increase in salary. This role offers the opportunity to work closely with the founders and be an essential part of their ventures.
Application Process
In addition to sending a resume, candidates need to provide a 1-2 minute video on why they want the role and why they should be hired. They must also confirm their willingness to work from 7am-4pm Central/Texas time and share about past success in telemarketing or in their career.
This job offer was originally published on Jobicy