Staff Systems Engineer – PKI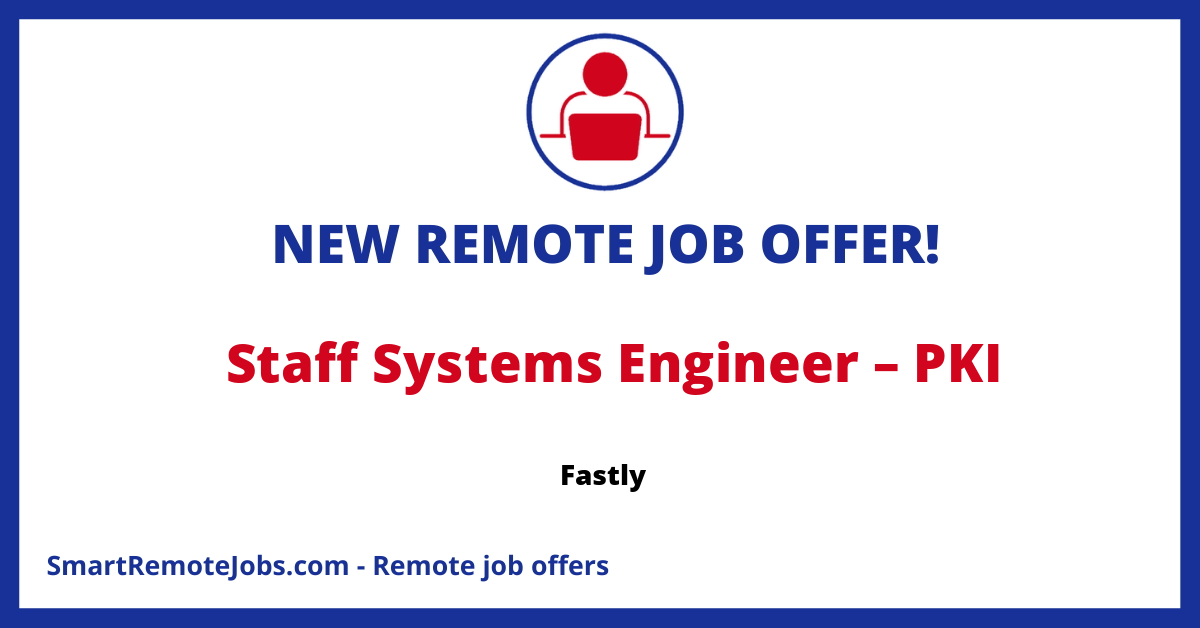 Fastly and Their Mission
Fastly aims to keep people better connected with the content and experiences they love. Leveraging its edge cloud platform, it allows customers to create digital experiences expediently, securely, and reliably by processing, serving, and securing their applications right at the edge of the Internet. The philosophy behind the platform's design is to utilize the modern internet, remain programmable, and support rapid software development. Among Fastly's clientele are some of the world's most renowned companies, including Vimeo, Pinterest, The New York Times, and GitHub.
PKI Systems Engineer Position
This job posting is targeted at professionals currently residing in the US. The hired applicant will operate as a PKI Systems Engineer, contributing to the building and operation of Certainly, Fastly's publicly-trusted TLS certification authority. The position requires collaboration with PKI specialists, as well as site reliability engineers, to establish systems that fulfill given security targets, reliability aspirations, and compliance specifications.
Job Roles
Duties include deploying and managing a highly safe, distributed, robust Public Key Infrastructure (PKI), collaborating with the SRE, security, and product engineering teams, integrating open-source, and licensed software into an efficient system that prioritizes automation and resilience. The role also requires the design, evolution, and exceeding the environment and processes' security, compliance, availability, and maintainability targets. In addition, meeting compliance standards across the organization is an essential part of the job.
Requirements
The ideal candidate should have a minimum of 6 years of experience in systems engineering, with 3 of those years being in PKI or security. She should also display expertise in operating and scaling systems built on temporary, containerized microservices. Practical experience with cryptography and tools (like OpenSSL, CFSSL, or LibreSSL), understanding of PKI architecture and standards, and high security Linux environment experience are also necessary for the role.
Additional Skills
Microservices' experience, protocols like gRPC, bash scripting, debugging Go and Python, and technologies in our tech stack: Linux, Docker, Hashicorp Vault, Chef, Splunk would impress us. Experience in RDBMS administration in a high-availability production environment and operation of a large-scale PKI are appreciated.
Also, the estimated salary range for this position is $195,720 to $244,640, along with a comprehensive benefits package.
This job offer was originally published on Jobicy