ScaleWellness: Media Buyer For DTC Wellness Brands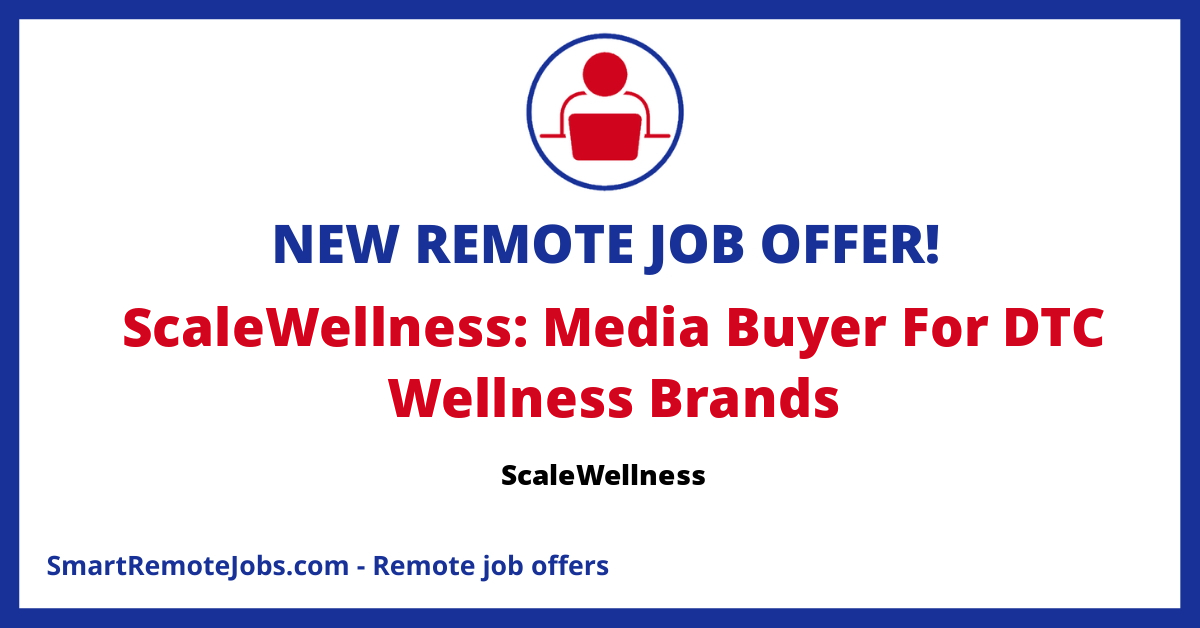 Heritage and Vision of ScaleWellness
ScaleWellness is a company located in Malibu, USA, with the mission of aiding wellness founders and teams in the improvement of their marketing skills. The goal is to assist these organizations in selling programs that are scalable and provide long-lasting impact for their clients. Operating successfully for the past 3 years, ScaleWellness is now focusing on expansion. As a growth marketing consultancy, ScaleWellness has enabled clients to generate over $14 million in revenue and has received recognition from organizations like Goop and Erewhon. The company operates as a modern consultancy, providing media buying services to its clients directly or via a network of reliable contractors.
Job Description
ScaleWellness seeks to hire a strategic marketer, skilled in connecting creative creation with the ad buying process. The suitable candidate must understand the mechanisms of effective testing of social media video ads and scaling them beyond $100,000+ per month. The job involves working with quality clients in the wellness sphere who produce products that bring about substantial, positive impacts on customers' lives.
Responsibilities and Requirements
The candidate will be in charge of setting up Facebook/Instagram ad accounts, crafting video ad creative hooks and concepts, conducting competitor research for new ad angles, and collaborating with a video editor. They will also need to learn how to structure and scale ad campaigns correctly, adhere to a simple naming convention within the ad accounts, provide transparent and proactive communication, and demonstrate the ability to create bootstrapped advertising campaigns that hit profit targets. A minimum of 3 years of experience in paid ads is required, along with familiarity with Meta Ads. Experience with consumer packaged goods (CPG), cleanses, detoxes, skincare, supplements, or wellness coaching is also a must. Applicants with experience in Google or Youtube ads will be given preference.
Application Process
Those interested in the role should fill out the application form on their website. Applicants are encouraged to check their spam inboxes 24 to 48 hours post-application for any follow-up emails. Applications can also be submitted at https://weworkremotely.com/remote-jobs/scalewellness-media-buyer-for-dtc-wellness-brands.
This job offer was originally published on Jobicy