Director of People Operations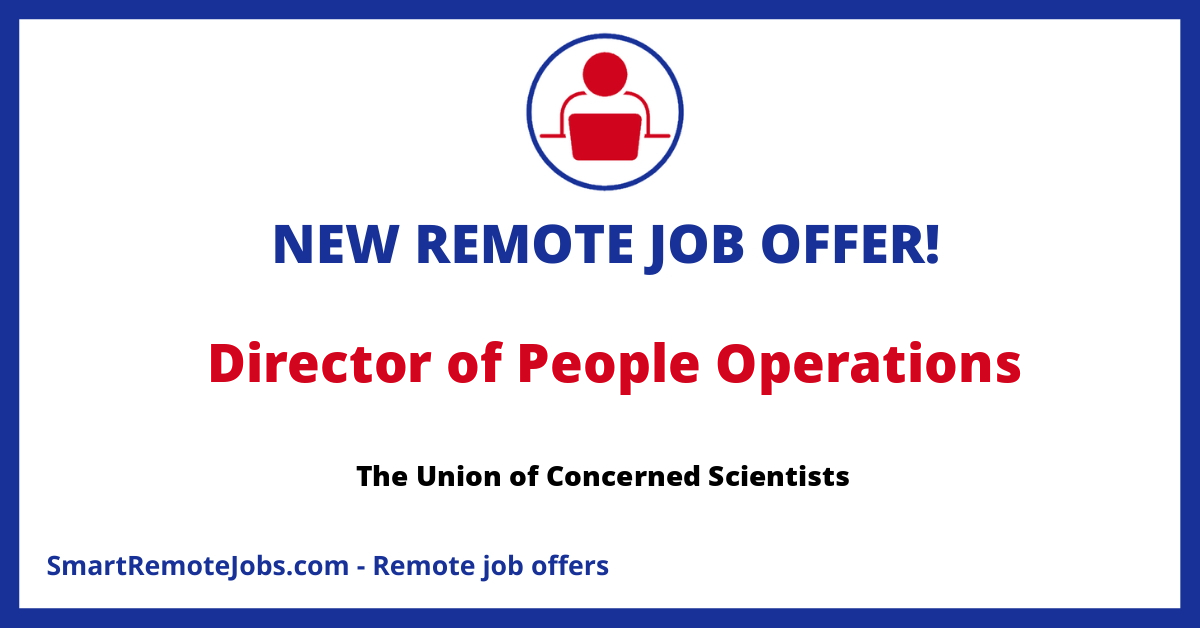 About the Union of Concerned Scientists (UCS)
The UCS is an independent non-profit organization which actively promotes the use of rigorous, independent science to advocate for a safe, healthy, and equitable future. The organization envisions a world that is guided by science in policy decisions and in fostering a better life for people. Through the use of strategic principles, values, and initiatives, we help fight global challenges such as climate change, inequality, and disinformation.
Responsibilities of the Position
As the Director of People Operations, you will be in charge of framing and executing People + Culture policies, procedures, and systems to enhance the effectiveness of operational infrastructure and employee satisfaction in alignment with the organization's objectives. You will also be entrusted with following compliance with all federal, state, and local employment policies, health and safety standards, and regulations. One crucial role is embedding diversity, equity, inclusion, and justice themes throughout day-to-day People + Culture practices.
The Position
You'll work on assessing the current People Operations infrastructure, developing and implementing improvements, ensuring compliance, overseeing onboarding processes, employee relations, benefits, and compliance. Also, you'll effectively communicate and present to the senior leadership whilst maintaining confident information.
Qualifications and Experience
For this role, 7 to 10 years of HR/People + Culture management experience, preferably in non-profit, knowledge of federal, state, and local employment laws, privacy laws, employment law, and excellent communication skills are required. An advantage will be a Master's degree, knowledge of compensation design in non-profit environments, HR certifications, and strong analytical skills.
Supervisory Responsibility
You will supervise one Operations Manager and provide dotted line supervision of P&C, Finance, and other staff.
Salary and Benefits
The salary range is $129,001 to $145,130 plus benefits for a full-time remote position available for CA residents only, with a 12% salary differential.
Covid Mandate for New Hires
UCS employees are required to be fully vaccinated against COVID-19. All new hires are also expected to comply with all mandatory vaccination requirements outlined in UCS policies.
Application Process
Interested candidates should apply by uploading a cover letter and resume. The cover letter should confirm a match with the listed salary expectations. Documents should be in Word or PDF format. No phone calls, please. The position is not in a bargaining unit and the deadline for application is until filled.
This job offer was originally published on Remotive