DACH Marketing Manager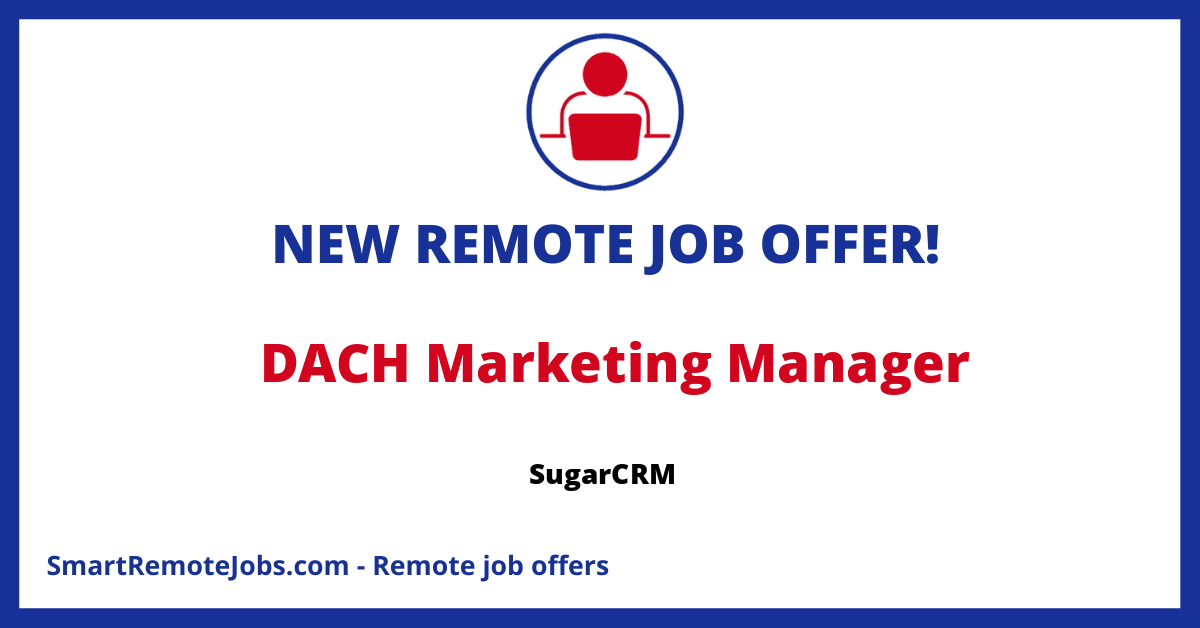 SugarCRM: A Revolution in CRM
SugarCRM is leading a revolution in Customer Relationship Management (CRM) since its inception. They have always strived to offer a unique kind of CRM and were pioneers in launching the first commercially available open-source CRM platform. Today, they continue their mission to provide products and services that simplify the hard tasks for sales, marketing, and customer service teams. They actively help small to mid-sized businesses achieve peak performance through their award-winning CRM platform.
Work Culture at SugarCRM
SugarCRM's diversified workforce is united by their passion for the company's mission and its values. The company believes in treating their employees humanely and not just as resources. They foster a culture where the work substantializes personal and professional growth. SugarCRM has been certified as a 'Great Place to Work' for its congenial work environment and an ongoing effort to strike a healthy work/life balance. Moreover, the company is a remote first organization, ensuring flexibility and convenience for its employees.
Join the Journey
At SugarCRM, they are always on the lookout for enthusiastic individuals who are ready to grow their careers and assist organizations in their growth. As a part of their EMEA Marketing team, an individual will be responsible for the execution of new business marketing activities in the DACH region.
About the Role
This role requires a motivated marketing manager with more than six years of international marketing experience in an enterprise software environment. The role is an amalgamation of creativity and pragmatism, and it includes close coordination with sales to deliver tangible results and making a significant impact.
Key Responsibilities
The responsibilities of the role include developing and executing regional marketing plans that build pipeline and align with business objectives, adapting global marketing campaigns for the DACH market, and support the enablement of their European partner community. It also involves coordinating the localisation of marketing material, tracking and analyzing both quantitative and qualitative metrics to measure the impact, and presenting plans and ROI metrics to marketing leadership and the local sales team.
Success Factors
To succeed in this role, one needs energy, creativity, superior communication skills, the ability to manage multilingual digital marketing programs, and a track record in executing offline marketing programs. They should have demonstrable experience in marketing through an external channel network, understand how technologies deliver business benefits, and knowledge of intent-data-driven marketing best practices. Fluency in German and English is also necessary.
Why Choose SugarCRM
Apart from a rewarding work culture, SugarCRM believes in learning and growing together. It encourages people to apply if they can demonstrate dedication, impact, and the ability to work in a fluid and collaborative environment. SugarCRM fosters diversity in terms of background and thought leading to better problem-solving and creative thinking. The company offers a competitive remuneration ranging from €55,000 – €65,000 a year.
This job offer was originally published on Jobicy