Senior HR Business Partner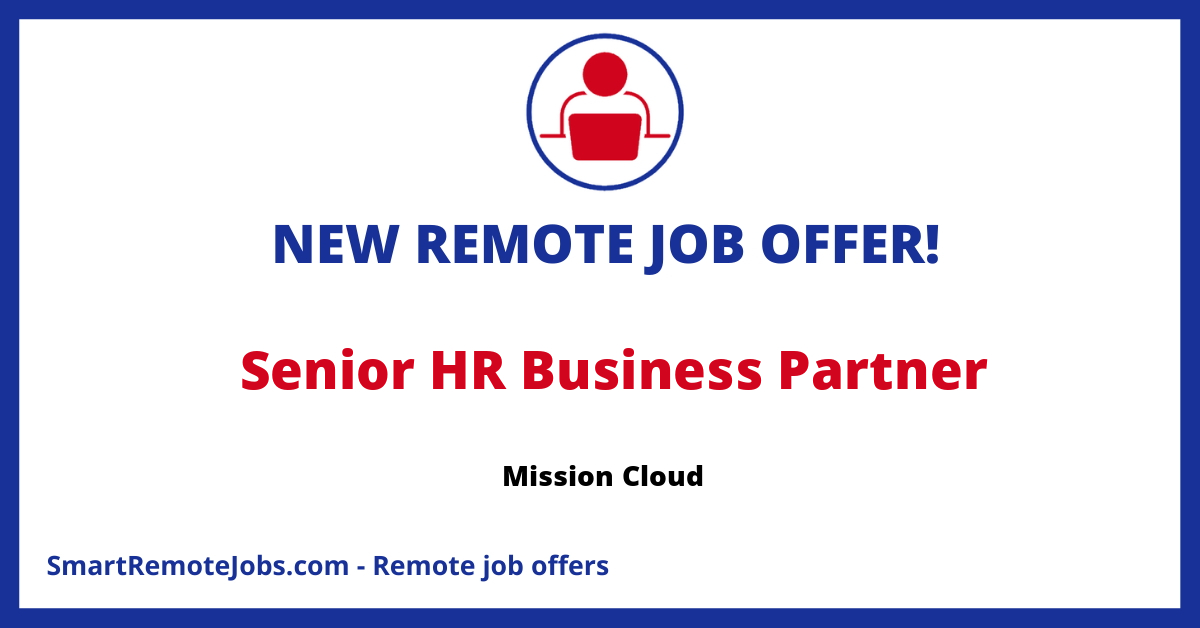 Job Overview
As the Senior Talent Experience Business Partner at Mission Cloud, your role extends beyond the typical HR responsibilities. Your duties include not just talent management, employee relations activities and performance management, but also strategic planning, organizational development, and change management - all on a remote basis. The aim is to make our company a remarkable workplace, perfectly aligned with our core values.
Responsibilities
Your major responsibility is to help formulate and enforce people strategies, processes that align with our core values. Working with management to address employee issues, determining resolutions, and complying with legal and company norms is also part of your role.
Additionally, you'll also offer expert guidance on important HR areas like talent management, compensation, organization design and change management. Your influence would extend to organizationwide initiatives, where you'll work with the Talent Development team to identify relevant training programs and in the formulation of new Talent Experience initiatives.
You'll be required to continuously evaluate HR metrics and devise innovative solutions for improvement, working closely with the People & Culture team to enforce policies that promote a positive work environment. Staying updated with the latest HR and employment law trends to guide the leadership is a part of the job.
Requirements
Expectations include excellent comprehension of HR principles, employment laws and application of HR disciplines. A strong business understanding, ability to curate effective HR solutions and proficiency in employee relations and talent management are vital. Certification in HR (e.g., SPHR, SHRM-SCP and PHR) and AWS Cloud Practitioner certification would be preferred.
Benefits
In return, we provide various benefits ranging from health, vision and dental insurances options that are 100% covered by us for dependents, Flexible Spending Accounts, generous PTO, reproductive health and pet insurance benefits to retirement plans, life insurance, monthly stipends and more.
At Mission Cloud we are committed to diversity and ensure fair hiring processes.
About us: Mission Cloud is a premier consulting partner for Amazon Web Services (AWS) focused on helping businesses opt for the full power of AWS cloud for transforming their operations.
This job offer was originally published on Remotive