Salesforce CPQ & Billing Developer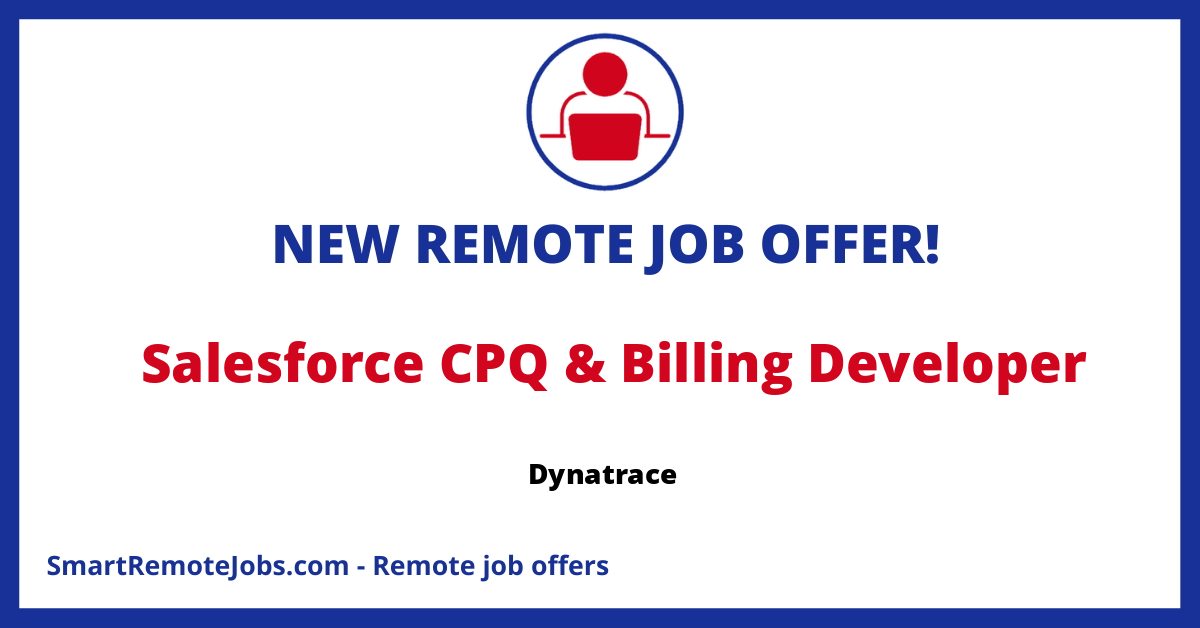 Summary of Dynatrace Job Advertisement
Dynatrace, a company that provides unified software intelligence, is seeking Salesforce Developer experienced in CPQ & Apex programming. The company has a clear vision of making the world's software work perfectly, and for this reason, they have been trusted by many of the world's largest organizations to accelerate their digital transformation.
As an equal opportunity employer, Dynatrace appreciates and values diversity. They are actively seeking applicants from diverse backgrounds, talents, values, ideas, and expertise.
Job Description
The new hire will be responsible for developing Salesforce CPQ & Billing using various methodologies and algorithms. Duties also include assistance in redefining and scaling Dynatrace's quote-to-cash system processes. The selected candidate will design, code, test, troubleshoot, debug and document solutions throughout the development process and across the Salesforce platform. They will also provide expertise in areas of data, integration, security, and analytics.
An important part of the job will be to engage in sprint planning, story estimation, solution and technical documentation as well as release planning and execution. This, in addition to ensuring all solutions pass the testing process and comply with industry best practices.
Qualifications
Applicants need to have a minimum of 5 years of experience with Salesforce Development, with a focus on CPQ & Apex programming. Experience with Salesforce CPQ Quote Calculator Plugins (QCP) & Automation (Price Rules, Product Rules) is preferred. Other qualifications on the preferred list include proficiency in various CPQ functionalities, Salesforce certifications, and a Bachelors or Masters' degree in Computer Science or similar fields.
Offered Compensation and Benefits
The salary for this position is $135K – $150K depending on experience. In addition to the base salary, the employee will also receive health, dental, life, STD, LTD insurance, 401K contribution, and PTO. All applicant information will be kept confidential according to EEO guidelines.
This job offer was originally published on Jobicy