Team Lead Talent Acquisition (IT)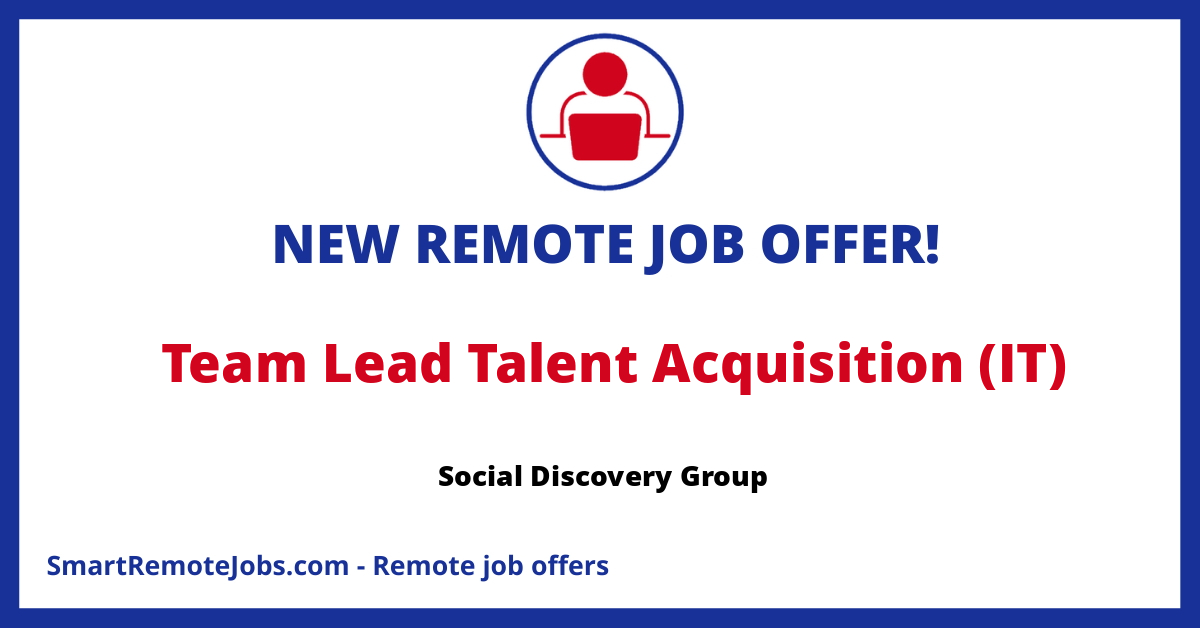 About Social Discovery Group
Social Discovery Group is the largest group of social discovery companies worldwide. With over 20 years in the industry, they focus on creating premium services and apps for international dating and social discovery. The company's portfolio includes popular platforms such as Dating.com, Cupid Media, and Dil Mil which are used by over 500 million users from 150 countries globally.
SDG also invests in promising social discovery technology startups around the world, including Open AI, Patreon, Flo, Wildly, RAW, EVA AI, Clubhouse, and more. The group aims to address issues of loneliness, isolation, and disconnection through the use of digital technology.
The Team and Culture at Social Discovery Group
The company is a team of more than 800 professionals functioning as digital nomads. These individuals live and work in different countries such as Cyprus, Malta, USA, Thailand, Indonesia, among many others. At SDG, result-oriented and proactive approaches are valued, along with the constant pursuit of novel and unconventional ideas.
Job Opportunity at Social Discovery Group
Social Discovery Group is looking for a dynamic, driven individual to lead their IT team's talent acquisition. This role entails managing the team and overseeing the full cycle of the recruitment process. They are expected to identify and engage talent sources worldwide, continuously improve recruitment efficiency, and optimize processes according to business needs. The person will utilize data-driven approaches to evaluate talent acquisition strategies and is expected to handle high-level recruitment for SDG.
The ideal candidate should have experience in leading a small IT recruitment team, expertise in international talent acquisition, proficiency in recruitment metrics, and excellent English language skills. Soft skills including initiative, effective communication, teamwork, and adaptability are also required.
SDG offers remote full-time opportunities, wellness days every year, generous bonuses, full payment for professional trainings, corporate discount for English lessons, health benefits, and a compensation package for workplace organization. They also feature an internal gamified gratitude system that allows employees to receive bonuses from colleagues.
This job offer was originally published on Remotive