SEO Manager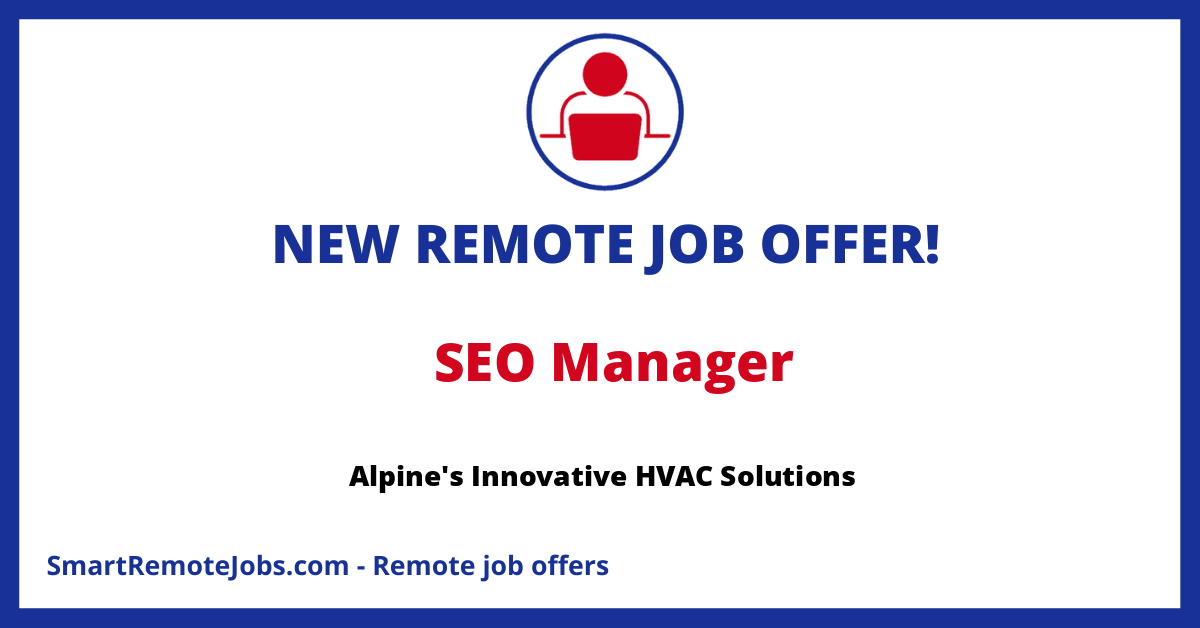 Alpine's Innovative HVAC Solutions
Alpine is an innovative team providing intelligent heating and cooling solutions to homeowners. They are revered for being the first and largest e-commerce retailer of heating and air conditioning equipment. Alpine's focus is to combat global warming through the use of high-efficiency and all-electric HVAC equipment. They offer a unique online shopping experience that excels in customer satisfaction, boasting a high rating of 4.85 out of 5.
Job Opportunity: SEO Manager Position
Alpine is seeking a skilled SEO Manager who will propel their digital presence to new heights. This position involves exciting tasks like content development, backlink acquisition, and technical SEO, aimed to boost Alpine's organic growth in the eCommerce industry. The SEO Manager will report directly to the Director of Operations and will lead a team of specialists to reinforce Alpine's online platform. The aim is not only to drive organic traffic, but to support Alpine's mission of creating a greener world.
Key Responsibilities and Requirements
The SEO Manager's obligations will encompass a variety of areas such as conducting keyword research, overseeing SEO focused content development, managing the backlink strategy and technical aspects of the website, and leading a team of content writers and technical developers. The position will utilize analytics tools for KPI tracking and reporting, while identifying best practices for SEO.
The ideal candidate would possess a degree in Marketing, Business, or a related field, with at least 5 years of experience in SEO, preferably in an eCommerce environment. They should demonstrate strong understanding of the latest SEO strategies and tools, with proficient skills in Google Analytics, SEM Rush, among others. Leadership qualities and strong communication skills are also required.
Benefits and Company Overview
Alpine offers a competitive salary package, including group healthcare, paid holidays and vacations, retirement plans, professional development trainings, as well as remote work. Started in 2002, Alpine has grown to be a respected figure in the arena of HVAC eCommerce. With a mission centered around environmentally friendly practices and high customer satisfaction, Alpine aspires to lead a shift towards greener HVAC solutions, provide a seamless shopping experience to its customers, and pave way for a sustainable win-win situation for clients, team members, and the environment.
}
This job offer was originally published on Jobicy