Recruiting Specialist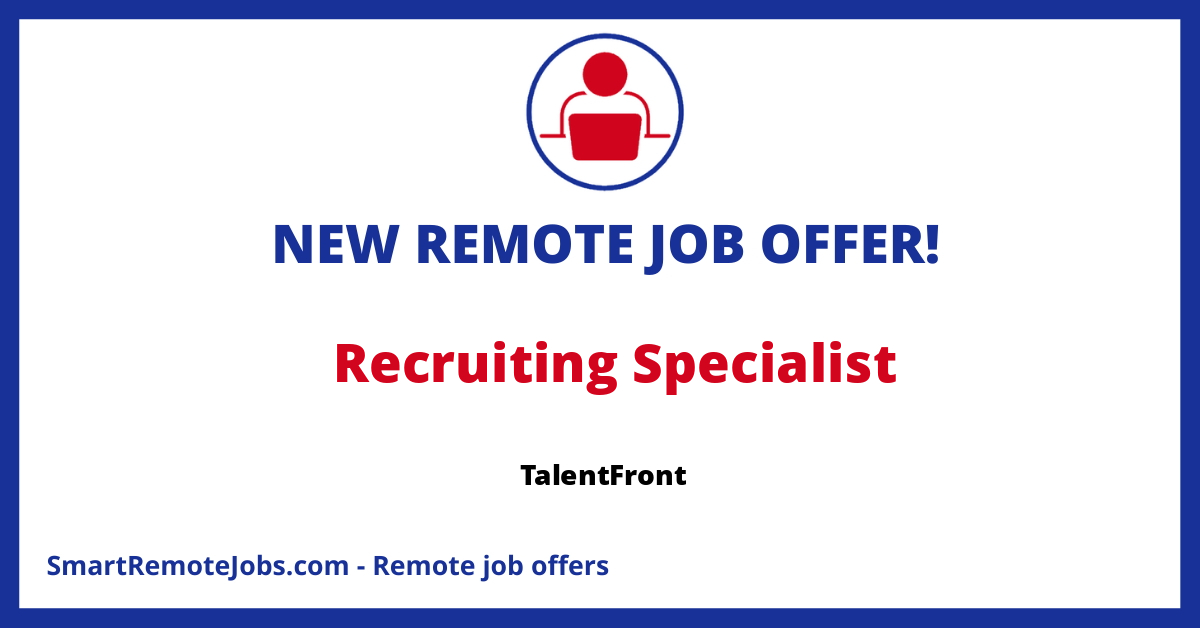 About the Company
TalentFront is an outsourced recruiting firm that provides comprehensive recruitment services. These services range from job description development to offer support. TalentFront plays a crucial role in growing companies that lack internal recruitment capabilities or need additional support during a surge. As part of its seamless integration, TalentFront wears the client's brand and considers itself part of the client's hiring team. The firm also establishes a recruitment engine for clients and guides them in managing it in the future.
As a start-up, TalentFront thrives on a strong entrepreneurial spirit. It is a remote team, thus demands strong communication skills, reliability, and commitment from each of its members. The team encourages flexibility and adaptability as they are continuously working towards business development and operation.
Job Description
TalentFront is inviting applications for the crucial position of Talent Recruiting Specialist. The role is suitable for professionals interested in or experienced in recruitment, human resources, or organizational development. The responsibilities of the role include reviewing resumes, conducting interviews, crafting candidate summaries, and deciding which candidates to present to TalentFront clients. Reporting to the CEO, the position provides a virtual opportunity but may require DC visits for annual team events post-COVID.
Role Responsibilities
Primary duties entail establishing role requirements in line with organizational plans and objectives. It involves determining applicant requirements by studying the job description and qualifications, analyzing applicant responses to interviews, and comparing qualifications to job requirements. Making recommendations on candidate suitability also falls under this role
Qualifications
Desired candidates must have a Bachelor's degree and some experience conducting interviews. They should be proficient in MS Office and Google Docs, with exceptional writing, verbal communication, and organizational skills. Apart from maintaining confidentiality, the applicants must demonstrate an entrepreneurial spirit, proactive nature, and a willingness to work in a fast-paced and high-caliber environment. Finally, they must be comfortable working virtually with limited direction and contribute positively to a small team.
Application Process and Confidentiality
Candidates may be asked to participate in a practical exercise to demonstrate their interviewing and note-taking skills. All applicant information will remain confidential per EEO guidelines.
This job offer was originally published on Remotive