Filestage: Junior Customer Success Manager (German Speaking)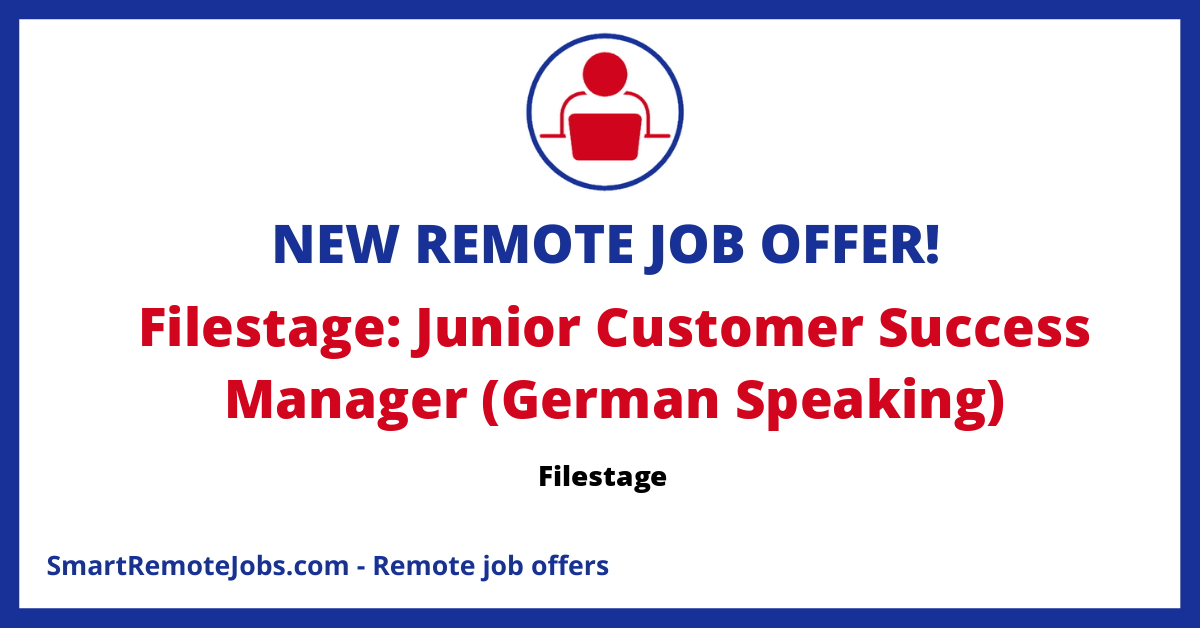 About Filestage
Filestage is a review and approval platform helping teams share, discuss, and approve all sorts of files, including documents, designs, images, videos, and audio. The company has a broad user base, with over half a million users across more than 500 companies, including well-known firms such as AB InBev, LG, Havas, GroupM, and Emirates. They have raised series A funding and are experiencing fast growth. The company operates fully remotely, with team members working across various locations worldwide, including home offices, coworking spaces, and coffee shops.
Job Opening: Junior Customer Success Manager (DACH)
Filestage is seeking a Junior Customer Success Manager based in Europe and fluent in German and English. The role primarily involves building long-term relationships with customers and transforming them into experienced users of Filestage software. Customer training and support are essential to this role, as is the drive to help customers achieve success. Additionally, the Junior Customer Success Manager will be expected to identify opportunities for growth and expansion within their client companies. Working closely with the Customer Success Manager who oversees key accounts in their market is required.
Life at Filestage
Filestage offers a flexible and remote working schedule, making sure a high time overlap with their team members, customers, and partners is maintained. The company prioritizes a strong team culture, being rated five stars on Glassdoor by its team. Team members at Filestage receive 36 days of holiday per year and a personal budget for career growth and development after six months in the company. Each team member is also eligible for a €1500 hardware budget and a €500 home office budget.
Application Process
To apply for the position of Junior Customer Success Manager, visit the job ad on 'weworkremotely'. Potential applicants should be passionate about customer success management and support, have basic knowledge about customer success management or account management, and possess a degree of business acumen. Successful candidates for this role must also demonstrate a commitment to taking responsibility and making a tangible impact on a growing product and company.
This job offer was originally published on Jobicy