Sr. Software Engineer, Windows Desktop App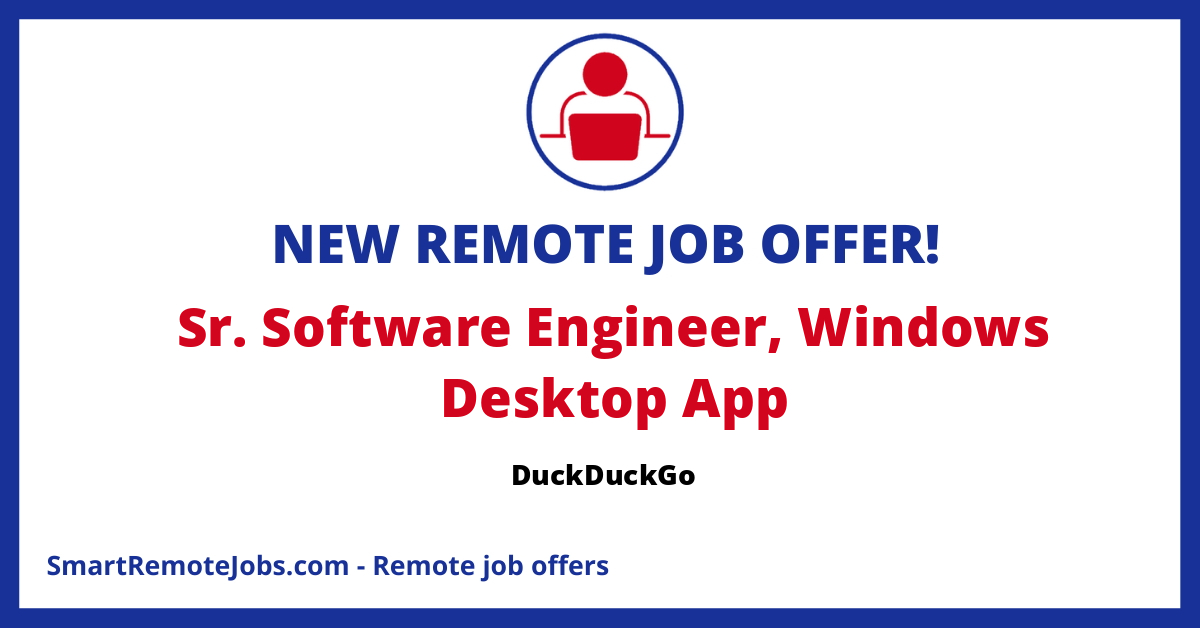 DuckDuckGo: The Privacy-First Company
DuckDuckGo has been the flagbearer of internet privacy for over a decade. The company provides an all-in-one product that safeguards online privacy, fosters the development of new privacy technology, and collaborates with policymakers to make online privacy accessible to everyone.
With more than 75 million downloads per year, DuckDuckGo's app and the packaged private search engine have become the go-to solutions for users worldwide, making it the #2 search engine on mobile in over 21 countries. The company has been profitable since 2014 with annual revenues exceeding $100 million.
New Privacy Solutions & Opportunities
DuckDuckGo is expanding its product offerings with the introduction of an array of new privacy solutions such as Email Protection, App Tracking Protection, and the first-ever Desktop Apps for Mac and Windows. They are extending an opportunity for professionals to join their team and work on the DuckDuckGo Privacy App for Windows. The role would involve collaboration with Product Managers, Designers, and Engineers across Native Apps to create a world-class browser with integrated privacy features.
The Role and Key Requirements
An advanced level of programming expertise with knowledge of C#, experience in implementing apps from scratch, a deep understanding of software design patterns, and the willingness to take charge for maintenance and improvements are some of the core requirements for this position. The professional should also have experience participating in technical architecture decisions for complex products thereby shaping the software architecture of the product.
Support, Compensation & Inclusivity
DuckDuckGo believes in providing robust support to its team members. They provide a Remote First approach, facilitating team members from all over the world to get their work done comfortably. The company is also committed to personal growth, providing an annual budget for professional development and dedicated career advisors for each team member. DuckDuckGo ensures that compensation is transparent across all professional levels and does not discriminate on any grounds. In addition, as an equal opportunity employer, they provide accommodations during the application process and strive for inclusivity in their workspace.
}
This job offer was originally published on Jobicy